I usually spend time in the last half of the summer, somewhere around the end of July onward, working on the design of upcoming courses. I think I'm probably at one end of a spectrum as far as making more work for myself in terms of course preparation and syllabus construction: I would guess that over 17 years or so at Swarthmore I've taught on average about 1.5 new courses a year. I don't think I've ever had a year without at least one new course. I also tend to rip up and redesign established courses, even when there hasn't been any issue with them. It's just how I focus my attention on near-term teaching. I try to keep my survey courses a bit more stable as it seems to me that there should be some continuity between each iteration, but even there I try to have three or four substantially new readings each time.
Syllabus maintenance and construction is one of the quintessentially invisible parts of a professor's job. I'm still stunned from time to time that many people outside of academia or education think that a professor or teacher just walks into a classroom and recites knowledge at students. I read a large range of books and essays that never make it into the syllabus as I'm thinking about lectures or discussions I'd like to convene. I look back over evaluations and consider how past assignments have worked or not and what kinds of pedagogical tweaks or experiments I might try in a given course. I'm usually still shifting around a few things here and there a day or two before the semester starts. (Well, and afterwards, but that's a different kind of project.)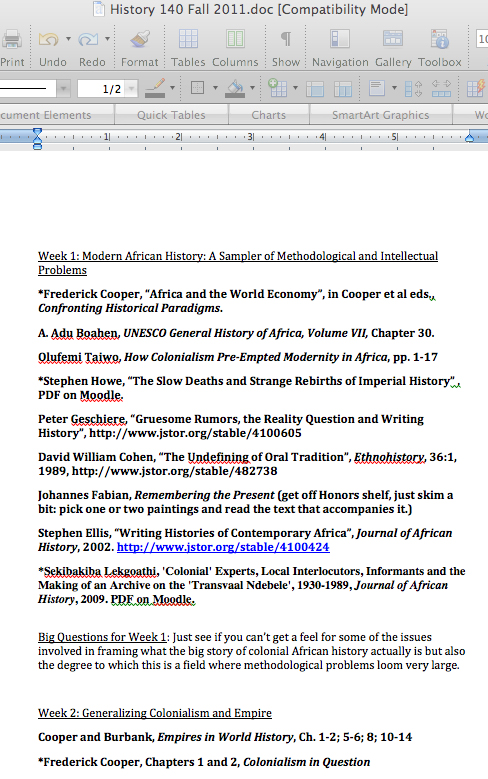 There's also a lot of annoying logistics to deal with most semesters. Right now I'm shifting some readings onto Moodle from Blackboard, which just takes a bit of adaptive adjustment to Moodle's interface and design. Courses that make more use of technology or have more ambitious media usage require a bit more logistical foresight.

I spend a certain amount of time during the summer thinking about courses I might teach in the future as well. That's the best time to read and explore in new areas, not just because my schedule is a bit looser but also because I'll need to be ready when the deadlines to get new courses on the schedule hit in the middle of a busy semester.