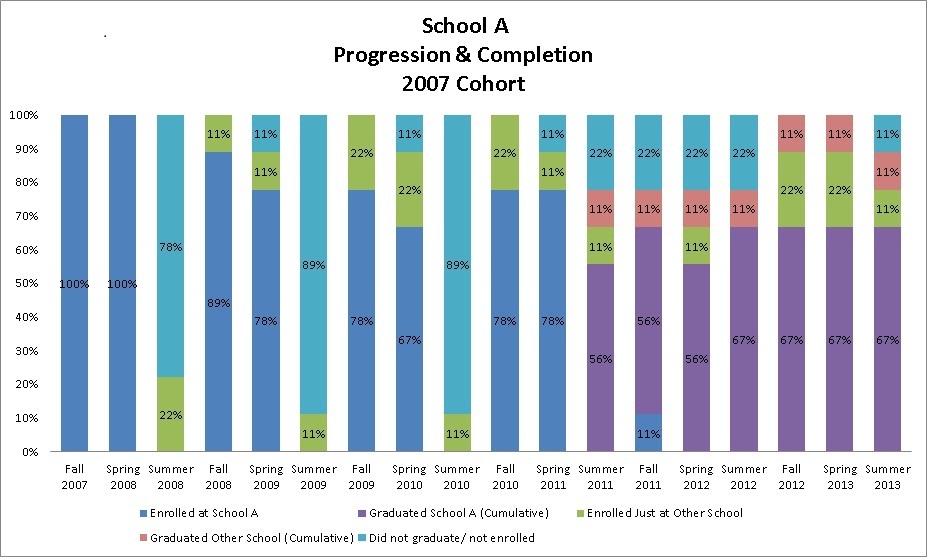 Since we IR folks like to track things, I would ask that if you use this & find it helpful that you let me know- either by sending me a short email (pborkow1@swarthmore.edu) or commenting below (the link to comment is a bit hidden at the end of the tags, but it is there).
This progression & completion SPSS syntax works to track enrollment/graduation at your school and other schools (including identifying concurrent enrollment) for a cohort or, if you split your file, for sub-cohorts as well .
By the end of the SPSS syntax (and with some work in excel), you will be able to:
Create a P&C table & chart that have each student for a cohort that, for each term, puts them into one of 5 buckets that total to 100 (5th bucket is calculated in excel):

Graduated from your school
Enrolled at your school
Graduated elsewhere
Enrolled elsewhere
No record found (calculate in excel)
The work with the SPSS output in excel will create a more user-friendly, attractive output, as well as calculate the final "no record found" category. Part of the template will also subtract the duplicate records so that we are moving from counting records to counting unduplicated students.  When using the template, paste the initial output from SPSS into a 2nd tab in excel & then copy just the values into the template that's on the first tab.
Additionally report:

Concurrent enrollment at other schools by term
Graduates (first record at any school) by term
Former students who enrolled only somewhere else in a term
Former students who did not have a record found anywhere in a term
You can of course also split the file by major, department, first generation, or any other variable that you feel will be useful.
Caveats:
This syntax requires that EVERYONE from your cohort has a record for their FIRST TERM at your school in the National Student Clearinghouse return file
If individuals do not have a record in the first term for some reason, they could still appear in later terms (for example, maybe the SSN was originally reported wrong and was corrected term 3), which would create problems with the data.
If you do have individuals who do not appear in the file for their first term, you will first need to incorporate your enrollment & graduation records (separate syntax to do so will be posted later)
And, of course, all of the regular Clearinghouse caveats also apply, which include: transfer to other schools is only captured if the subsequent records aren't blocked, attendance isn't at a school that does not participate, and if the student didn't have a legal name change in between attending your school & an other school (you can also submit a file with both original & updated name if you have that info).
Furthermore, as some schools only report graduation records (and not enrollment), you may have some students who appear as "missing" until they show up as graduated.
(note that these videos use an example file and that the student names are not real Swarthmore students)
Part I:
Part II:
This syntax opens in a txt document; simply copy/paste all into a SPSS syntax file and run:
Excel Template: