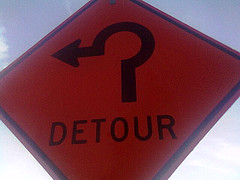 Since we IR folks like to track things, I would ask that if you use this & find it helpful that you let me know- either by sending me a short email (pborkow1@swarthmore.edu) or commenting below (the link to comment is a bit hidden at the end of the tags, but it is there).
If you want to run the Progression & Completion syntax from the previous post, but have found that you don't have records for EVERYONE in your cohort in the National Student Clearinghouse return file, you are going to need to incorporate your institutional enrollment/graduation data for your students through this workaround (when you submit a cohort file to the Clearinghouse for this project, you should be submitting a begin search date that would pick up the fall term for that cohort. Therefore, everyone in your cohort should have at least one record found).
These instructions & syntax use SPSS to create enrollment/graduation information from your school for your cohort that you can then use with the transfer school information from the Clearinghouse detail return file to determine Progression & Completion.
Continue reading Video and SPSS Syntax: Progression & Completion Workaround