Anyone else besides me creeped out by the Febreze air freshener commercials on TV, sponsored by Proctor & Gamble? Some of them feature various folks blindfolded and sequestered in gross spaces—ratty cars, moldy abandoned apartments with scuzzy old couches, etc. They are then surrounded with foul things like rotting vegetables and days-old fish, which of course they can't see but WE can. The air in their space has been recently heavily sprayed with Febreze. The subjects are asked what they smell, and they say things like "mmmm, smells like fresh pine," or mention other scrumptious scents, while we the audience are grossed out by the contrast between what they think surrounds them and what we can see. Some images feature not just blindfolded "subjects" but other folks in lab coats, as if the commercial we are watching is somehow a documentary of a lab experiment–with us as both watcher and blindfolded subject.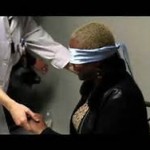 The most disturbing and interesting detail: in some of the ads, the person is told to remove the blindfold near the ad's end—and realizes to her or his shock that they are alone in a disgusting place. One of them plaintively says, "hello?" like she's hoping someone will show up and help her to get out of this creepy place and explain to her what the heck is going on. (In other ads, the subjects have their blindfolds removed and are shocked to see their gross surroundings–and then shocked again, and embarrassed, to see others watching them as they realize they've been fooled. Their facial expressions show horror, embarrassment, disgust, but never anger (why not? because they're being paid?)….
These ads were surely intended simply to show us a "scientific" experiment with a blindfolded subject to convince us that Febreze works miracles and we should buy it. But I can't get past how they make unforgettable that moment of profound shock. Not just embarrassment and disgust (at the smells, at being manipulated), but–in the ad where the person is left alone, not surrounded by those in the know–a reaction something like this: "I've been blindfolded, deceived by aerosol perfume, and abandoned. How do I get out of this place?"
I wonder, do the Febreze ads also work on another level, as powerful (unintended?) commentary on our current political rhetoric? After all, we're in a profoundly scary and rotten place as a nation, and many have been blindfolded and had perfumes wafted by our noses in order to keep us secure. What happens when that blindfold is removed? "Hello?"
The Febreze marketing campaign has another name for the results Febreze has on blindfolded people: "air effects." You can sample a wide array of recent Febreze blindfold test subject commercials on, where else, YouTube.