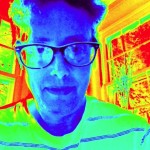 Dear reader, thanks for your interest in my work.
I teach U.S. literature and cultural history at Swarthmore College's English Literature department.   I do lots of courses focusing on twentieth century fiction; others look at poetry (text and live performance) from Whitman and Dickinson to the present or, even more broadly, from Anglo-Saxon songs to contemporary poetry.   Like my other colleagues, I do introductory courses in literary/cultural studies open to first-year students, a wide variety of middle-level courses, and also advanced Honors and/or research seminars in U.S. literature.  Course materials (including syllabi) are available via this site, as are several digital archive/annotation projects completed by some of my students.
A limited selected of my scholarship will be available here. See also the downloadable materials on my academia.edu website.
The materials posted here and elsewhere online include published papers, the table of contents for my books, and a few course syllabi, a c.v., etc.
After two early book projects focusing on two different writers–Williams and Welty–important to twentieth-century modernism, I moved somewhat back in time in my research interests, to the post-Civil War "New South" era of about 1880-1920. It's a very under-studied period, with the exception of a few authors like Mark Twain and Charles Chesnutt.  With my colleague Amrit Singh I also have edited an anthology of essays on U.S. Literature and Postcolonial Theory.
I am now moving towards focusing more on contemporary U.S. literature, particularly fiction, poetry, and other aspects of contemporary scene, both in published scholarship and in blog posts here and other less formal kinds of writing. I'll also be posting here on art, music, and other cultural events past and present, as well as on other topics.
Comments are welcome on the contents of this blog! Use the Comments option on individual posts, or email me at pschmid1 @ swarthmore.edu (removing the spaces I've added to this address to fool "smart" iRobots).
*****
It's about play as well as work: a selection of my Instagram photos: