LANCASTER, Pa. - Senior goalie Kevin Friedenberg, senior attack Tyler Bradshaw and senior defender Max Wilson have been selected as members of the 2010 All-Centennial Conference men's lacrosse team, the Conference announced on Tuesday afternoon.
Friedenberg is a first-team selection, while Bradshaw and Wilson both made the second team. Wilson is a second-team selection for the second straight season, while Friedenberg makes the first team after being named Honorable Mention in 2009.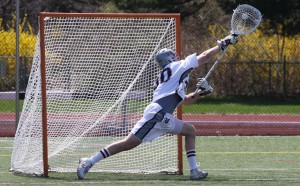 One of the top goalkeepers in Division III lacrosse, Friedenberg (Needham, Mass./Needham) capped his illustrious Garnet career with a stellar 2010 campaign that saw him earn first-team honors. The preseason All-American finished first in the Centennial Conference in save percentage (12.46) while finishing the season with a 9.43 goals-against average and .570 save percentage. He recorded a season-high 17 saves in a victory over Washington College - the Garnet's first over the Shoremen since 1953 - while holding opponents to under 10 goals in nine of Swat's 13 games.
Bradshaw (Marietta, Ga. - Lassiter) had a breakout season on the attack, leading the team in goals per game (2.46) and points per game (3.38), while finishing third in the Centennial in both categories.Bradshaw's 32 goals for the 2010 season ranks ninth all-time for a single season in the 100-plus year history of Garnet men's lacrosse. He scored a career-high five goals, including the game winner with 3:33 left to play in a victory over Christopher Newport, while recording the 100th point of his career in a win over Drew.
Wilson (Great Falls, Va./Langley), one of the top longsticks in the Centennial, makes the second team for a second consecutive season. The senior led the Garnet in ground balls (50) and caused turnovers (14) for the 2010 season. Wilson is also one of just five student-athletes to be named to the All-Centennial Conference men's lacrosse team as well as the Centennial Conference Academic Honor Roll.