BALTIMORE -- Swarthmore men's tennis made a strong run at the 2009 Centennial Conference Men's Tennis Championships this weekend, topping Haverford in the semifinals, 6-3, before falling at 12th-ranked Johns Hopkins University, 5-0, in the championships Sunday afternoon at the Perring Athletic Center.
Swarthmore stands at 11-7 overall and will await word of a possible at-large bid to the NCAA Division III Men's Tennis Championships.  The complete bracket will be released earlier next week, go to www.ncaasports.com for more information.
For the third straight day, the Centennial Conference Tennis Championships moved indoors due to rainy weather along the East Coast.
The Blue Jays (15-3) jumped out to a 3-0 lead after doubles' action.  Swarthmore could do little to get in Johns Hopkins' way on as two victories at singles for the Blue Jays led to a third consecutive Centennial Championship and automatic bid to the upcoming NCAA Team Championships.
Swarthmore earned a spot in its first Centennial Conference Championship match (the Garnet joined the conference in 2008 after winning four national titles and 19 Middle Atlantic Conference Championships from 1964-1984) by winning its second match over rival Haverford in 10 days by a score of 6-3 in semifinal action at the Michael Mullan Indoor Tennis Center on May 1.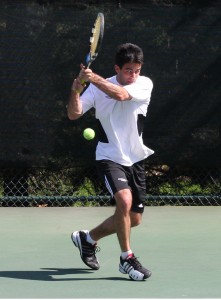 Tense doubles play on Friday night saw Swarthmore take a 2-1 score advantage with wins at No.1 and No. 2.  All-Conference duo Kevin Shaughnessy '09 (South Kingston, R.I. / South Kingston) and Zak Kelm '12 (Shaker Heights, Ohio / University School) won 9-7 at the top spot (ninth in a row) and following suit at No. 2, was the pairing of Stephen Youngblood '12 (Narcross, Ga.) and Mark Wee (Syosset, N.Y. / Syosset).
The two Swarthmore freshman playing singles made strong playoff debuts.  Kelm won the first-set tie-breaker with Haverford senior Evan Stiegel at No 3s on his way to a 7-6 (4), 6-2 win.  Youngblood outlasted Haverford's Alex Buxbaum at No.1, earning a three-set win by scores of 6-2, 3-6, 6-4 as Swarthmore moved to the verge of a win, 4-1.
Haverford won the third singles match (No.2s) and a new set of matches unfurled at the three-court tennis facility named for Swarthmore's head coach.  Wee accelerated to a straight-set win at No. 4, his fifth consecutive victory, to clinch the team win and a spot in Sunday's Conference Championship match.
The decision to play out the match had been made before play started and Garnet senior JJ England (Palm Beach Gardens, Fla. / The Benjamin School) (pictured above, left) picked up his sixth consecutive match when his Haverford opponent was forced to retire.