LANCASTER, Pa. -- Swarthmore junior Rachel Wallwork was named Centennial Conference Women's Tennis Player of the Year for the second straight year and joined with senior Jennie Park on All-Centennial doubles team, as was announced by the Conference office Tuesday afternoon following a vote by the Centennial head coaches.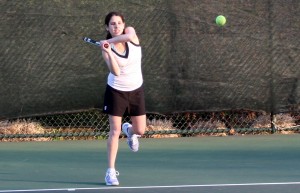 Wallwork (Washington, D.C. / Georgetown Day) , also named First-Team in singles, was a perfect 8-0 in Conference play this season, pushing her current Conference win streak to 19 consecutive (22-2 career record).  Playing at No. 1 singles for Swarthmore in 2008-09, Wallwork (left) stands at 12-4 overall with two wins over regionally-ranked opponents, including a straight-set victory over the top player from #4-ranked Emory.  Wallwork was also selected for the Centennial Conference Academic Honor Roll for the second straight year.
Wallwork is the second Swarthmore women's tennis player to receive the accolade on two occasions (Anjani Reddy '04 won it four times – 2001-04). Wallwork is the first back-to-back winner of the award in the Centennial since Amy Schmidt of Muhlenberg in 2005-06.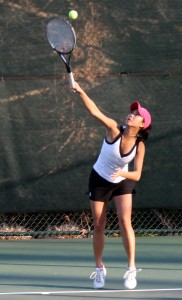 Park (Rockford, Ill. / Guilford) and Wallwork repeated as All-Conference first-teamers, going undefeated in Conference play (8-0) with a 10-2 overall mark at No. 1s.
Park (right) concludes her career with five All-Centennial selections:  three First-Team nods in singles play (2006-08) and two for doubles (2008, 2009).  She recorded a 21-2 record in Centennial doubles action over the four years.