SWARTHMORE, Pa. - Recent graduate Caitlin Mullarkey  '09 led the pack of female runners while senior Nyika Corbett led the crop of current runner at 2009 Alumnae Meet recently held at the College.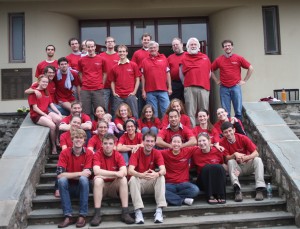 Front ( left to right): James Golden, Patrick Hart, Vernon Chaplin, Cathy Danh, Tara Trout, Garrett Ash.
Center Front (right to left): Emily Wistar, Molly Maurer, Kavida Hardy, Gene Yoshida, Elizabeth Gardener-Lazar, Krista Gigone.
Center Back (right to left): Adam Hunt, Ayja Phoun Bhardwaj, Bess Ritter, Emma Stanley, Melina Healey.
Back (right to left): Cait Mullarkey, Erik Saka, Dan Hodson, Nat Herb-Satullo, Matt Schiller, Coach Joe Stephanowicz, Dave Johnson, Andrew Ruether, Steven Bhardwaj, Brendon Lazar, Agnes Lazar, Phil Jones, Gordon Roble, John Schubert.
| | | | |
| --- | --- | --- | --- |
| Place | Name | Class Year | Time |
| 1 | Aidan DuMont-McCaffrey | 13 | 16:54 |
| 2 | Brian King | 13 | 16:55 |
| 3 | John McMinn | 13 | 17:02 |
| 4 | Garrett Ash | 05 | 17:14 |
| 5 | Jacob Phillips | 13 | 17:24 |
| 6 | Erik Saka | 09 | 17:42 |
| 7 | Dan Hodson | 09 | 17:51 |
| 8 | Pat Hartnett | 11 | 17:58 |
| 9 | Zach Gershenson | 12 | 18:26 |
| 10 | James Golden | 05 | 18:34 |
| 11 | Bill King | 13 | 18:42 |
| 12 | Adam Hunt | 06 | 18:45 |
| 13 | Nat Erb-Satullo | 07 | 18:54 |
| 14 | Chris Wickham | 12 | 19:05 |
| 15 | Charlie Huntington | 12 | 19:06 |
| 16 | Danny Cramer | 12 | 19:11 |
| 17 | Alex Breslow | 11 | 19:21 |
| 18 | Michael Fleischmann | 13 | 19:30 |
| 19 | Andrew Van Buren | 10 | 19:31 |
| 20 | Chris Mayer-Bacon | 11 | 19:35 |
| 21 | Elliot Weiser | 13 | 19:36 |
| 22 | Harold Blum | 12 | 19:48 |
| 23 | Mark Olson | 13 | 19:50 |
| 24 | Ian Anderson | 13 | 19:52 |
| 25 | David Riccardi | 10 | 19:54 |
| 26 | Caitlin Mullarkey | 09 | 19:55 |
| 27 | Phil Koonce | 12 | 19:55 |
| 28 | Jeff Painter | | 20:28 |
| 29 | Bess Ritter | 09 | 21:02 |
| 30 | Matt Schiller | 07 | 21:06 |
| 31 | Seth Green | 10 | 21:14 |
| 32 | Dan Stair | 12 | 21:15 |
| 33 | Gabriel Ryan | 13 | 21:16 |
| 34 | Nyika Corbett | 10 | 21:16 |
| 35 | Ashley Davies | 10 | 21:16 |
| 36 | Melina Healey | 13 | 21:31 |
| 37 | Eric Verhasselt | 08 | 21:36 |
| 38 | Becca Woo | 11 | 21:51 |
| 39 | Lauren Deluca | 10 | 21:56 |
| 40 | Hannah Rose | 12 | 22:19 |
| 41 | Matthew Heck | 13 | 22:27 |
| 42 | Hugh Montag | 12 | 22:31 |
| 43 | Gene Yoshida | 99 | 22:44 |
| 44 | Emily Wistar | 06 | 22:44 |
| 45 | Steven Bhardwaj | 06 | 22:48 |
| 46 | Emma Stanley | 09 | 22:54 |
| 47 | Daniel Ly | 12 | 23:00 |
| 48 | Travis Mattingly | 13 | 23:03 |
| 49 | Amanda Eng | 12 | 23:13 |
| 50 | Ann Ruether | 94 | 23:13 |
| 51 | Liz Lopez | 10 | 23:14 |
| 52 | Caitlin Russell | 11 | 23:14 |
| 53 | Bettina Tam | 10 | 24:03 |
| 54 | Jaymes Fairfax-Columbo | 10 | 24:13 |
| 55 | Ginger Lewis | 86 | 24:22 |
| 56 | Mariel Feigen | 10 | 24:38 |
| 57 | Mayra Marquez | 12 | 24:44 |
| 58 | Krista Gigone | 04 | 24:52 |
| 59 | Naomi Glassman | 12 | 25:21 |
| 60 | Phil Jones | 99 | 25:33 |
| 61 | Patrick Hart | 06 | 25:41 |
| 62 | Tara Trout | 04 | 25:51 |
| 63 | Joan O'Bryan | 13 | 27:16 |
| 64 | Kavita Hardy | 09 | 27:34 |
| 65 | Nevin Katz | 99 | 23:39 |
| 66 | Stephanie Black-Schaffer | 12 | 27:42 |
| 67 | Molly Maurer | 06 | 27:55 |
| 68 | Mary Deluca | | 28:12 |
| 69 | Arik Davidson | 12 | 28:25 |
| 70 | Rich Slattery | 80 | 28:51 |
| 71 | Ayja Phoun Bhardwaj | 04 | 29:36 |
| 72 | Julia Melin | 13 | 29:37 |
| 73 | Ali Farnos-Wilker | 11 | 29:37 |
| 74 | Katie Gonzalez | 12 | 29:44 |
| 75 | Elizabet Gardner Lazar | 05 | 32:18 |
| 76 | John Schubert | 74 | 39:07 |
| | | | |
| | Scores:  Men Varsity 19 Alums 39 | | |
| | Scores:  Women Alums 27 Varsity 28 | | |