INDIANAPOLIS, Ind. -- For the second straight year, Swarthmore junior Rachel Wallwork has been selected to compete in the NCAA Division III Women's Tennis Individual Championships on May 22-24.
The 2009 singles and doubles championships are being co-hosted by Oglethorpe University and Gwinnett Sports Commission at Collins Hill Athletic Club in Lawrenceville, Georgia.
Wallwork (Washington, D.C. / Georgetown Day) was named the Centennial Conference Player of the Year for the second year in a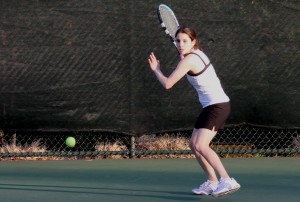 row at the end of the 2008-09 season. The No. 1 singles player for the Garnet, Wallwork went 8-0 in Centennial play while extending her Conference win-streak to 19 in a row. Her overall 2008-09 record stands at 12-4, including two wins over regionally-ranked opponents.   In the latest Intercollegiate Tennis Association (ITA)/Campbell's poll, Wallwork is ranked eighth in the Atlantic South region.
Wallwork faced two of the other 31 NCAA Division III qualifiers, winning 6-2, 6-2 over Emory's Lorne McManigle on March 7 before falling in 6-2, 7-6 (4) to Beck Morse-Karzen from Mary Washington on April 4.
In 2008, Wallwork lost in the round of 32 at the NCAA Individual Championships to Kristin Cobb from Denison by scores of 6-0, 6-4.
Wallwork has also been selected as an alternate with doubles partner Jennie Park '09 (Rockford, Ill. / Guilford). The pair currently rank fourth in the region and have the chance to compete in the Championship in the event another doubles pair becomes injured or is unavailable to compete. The duo were selected to the All-Conference doubles team for the second consecutive year after going undefeated in Centennial play (8-0) and had an overall record of 10-2 at the top spot.
Click here for the Official 2009 NCAA Division III Women's Tennis Championship Web Site
Click here for NCAA Release (pdf)