SWARTHMORE, Pa. -- The Swarthmore track and field team competed in the third-annual Swat Last Chance Meet on Monday afternoon on the Walter T. Skallerup, Jr. Track at Clothier Field on the campus of Swarthmore College.
Over 35 schools competed ranging from all divisions of the NCAA at the meet formerly known as the Tuppeny Meet, with the student-athletes breaking six track records and 16 meet records.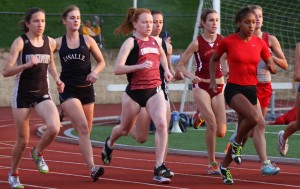 Senior Cait Mullarkey '09 (Wilmington, Del. / Ursuline Academy) set her third school record in the women's 1,500-meter run (4:38.11), posting a NCAA B-cut time in the process.  She bested the previous mark set by Jokotade Agunloye '01 set in 2001 (4:42.41).  Classmate Kathy Feeney (Staatsburg, N.Y. / F.D. R.) also completed her career in a strong fashion, entering the Garnet top-ten list with a personal-best time of 4:52.03 in the same event.
Swarthmore's Chris Mayer-Bacon '11 (Wenonah, N.J. / Gateway Regional)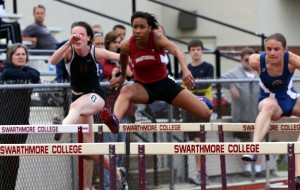 finished with 58.23 seconds in the men's 400-meter hurdles while freshman Kenyetta Givans (Conshohocken, Pa. / Plymouth-Whitemarsh)(right) finished sixth in the women's 100-meter hurdles with a time of 15.63.
In his final track meet, Garnet senior Dan Hodson (Trumbull, Conn. / Fairfield) valiantly posted a 4:08.54 race-time in the men's 1,500-meter race.
Freshman Nicole Cox (Los Gatos, Calif. / Castillejia School) jumped 4'11 3/4" in the women's high jump, also good for a personal-best.
Senior Bess Ritter (Quaker Hill, Conn. / Waterford) finished ninth in the women's 5,000-meter run with a time of 18:16.00 while Hannah Rose '12 (Cronton-Hudson, N.Y. / Croton-Harmon)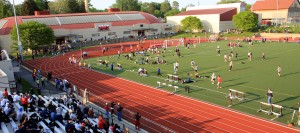 entered the Swarthmore top-ten list in the ninth slot clocking in at 18:21.90.
Daniel Ly '12 (Hershey, Pa. / Hershey) finished sixth overall in the men's triple jump with a 13.34-meter leap that pushed ahead one slot on the Garnet all-time list to seventh place.
Click here for FULL RESULTS.