MINNEAPOLIS, Minn. --  Swarthmore junior Anne Miller earned All-America honors for the third consecutive year, making the championship final in the 200 butterfly at the 2009 NCAA Division III Swimming & Diving Championships on March 19-21 at the University of Minnesota Aquatic Center.
Miller (Buffalo, N.Y. / Buffalo Seminary), an All-American in the 100 and 200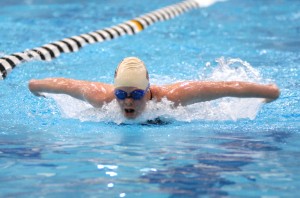 butterfly in 2007 and 2008, earned her fifth overall selection with a fifth-place finish in the 200 finals.  The junior completed her improbable comeback from an arm injury in November on Saturday night, clocking in at 2:03.38 while dropping nearly a full second from her preliminary round time (2:04.91).  Miller is the first Swarthmore swimmer to swim in the top-five of a championship final for three consecutive years.
At the 2009 NCAA Division III Championships, Miller also competed in the 100 butterfly, earning 31st (58.25), and the 500 freestyle, finishing 51st in a time of 5:12.75.
Miller is the fourth Swarthmore female swimmer to garner five All-American selections, joining Skye Fulkerson '96 (program-most six), Jenny Harvey '99 and Cathy Polinski '99.  Miller is the lone Garnet swimmer to earn five individual honors.
Miller is the third Swarthmore athlete to earn All-American honors during the current 2008-09 athletics' season—Jeff Kushner '09 (men's soccer) and Cait Mullarkey '09 (indoor track) were also honored.
COMPLETE NCAA DIVISION III SWIMMING & DIVING CHAMPIONSHIP RESULTS