Swarthmore senior defender Jeff Kushner has been named All-America by the National Soccer Coaches Association of America (NSCAA).  Kushner, a First-Team NSCAA/adidas All-Mid-Atlantic selection, was joined on the all-region team by senior Evan Nesterak and junior Dylan Langley.
Kushner (Norristown, Pa. / Methacton) and Nesterak (Parker, Colo. / Ponderosa) were named to the All-Region first team while Langley (Honolulu, Hawaii / Iolani School) earned second-team honors, increasing Swarthmore's NSCAA/adidas All-Region selections to eight total in the past four seasons.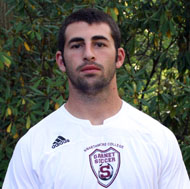 Kushner, a defender, is the first Swarthmore soccer player to be placed on the All-America first-team since 1957.   The senior captain was unanimously selected to the Centennial Conference first team after anchoring the staunch Garnet backline that finished ranked in the top-ten of Division III for goal allowed (10), goals-against average (0.45) and shutouts (six).  Kushner made his presence known on the offensive end as well, tallying seven points in 2008 (two goals, three assists).
Kushner receives the 89th All-American selection in Swarthmore's 93 seasons of men's soccer.  Forward McWelling Todman '76 was the last Garnet male to be named All-America, receiving a second-team nod in 1974.  Kushner is the 62nd Swarthmore player to be named All-America and the first listed on the first team since Sergei Retivov '57.
Nesterak, a forward, led the Garnet offensive attack with nine goals, tied for most in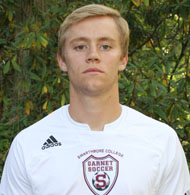 Centennial play.  The senior was named Conference Offensive Player of the Week on November 3 after posting game-winning goals against Muhlenberg and Haverford in a pair of 1-0 Swarthmore wins.  Nesterak scored a Conference-best four game-winning goals during Centennial action in 2008, finishing his Swarthmore career tied for 10th in points (44) and goals (21) in program history.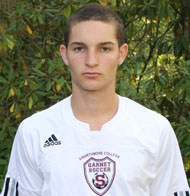 Langley, a midfielder, fueled a potent Garnet offense (Centennial-leading 21 goals) with a team-high 19 points (seven goals, five assists).  He tied for the Centennial lead with four game-winning goals in 2008, including the decisive goal in a 1-0 win over Dickinson in the second round of the NCAA Championships on November 16.
Swarthmore (17-3-2) had its best season in over 30 years, winning the program's first Centennial Conference Championship while advancing to the sectional round of the NCAA Division III Men's Soccer sectionals.  The Garnet set school records for overall wins, Conference wins (eight), and completed the season ranked No. 13 in Division III.
Click here for the 2008 NSCAA/adidas All-America teams
Click here for the 2008 NSCAA/adidas All-Mid-Atlantic teams