EWING, N.J.  -- The Swarthmore women's soccer defeated the top-ranked team in the country, the College of New Jersey, 4-3, Wednesday afternoon.
The Garnet, still salting from a tough 1-0 double overtime defeat last Friday to Eastern, showed little fear in facing the Lions (4-1), a national semi-finalist last season.  The 2008 schedule has been anything but easy--the College of New Jersey represented the fifth Swarthmore opponent to have played in the 2007 Division III NCAA Tournament (including a pre-season scrimmage with York).
Swarthmore (4-1) handed the Lions just their second defeat in the last 77 home matches (71-1-5), dating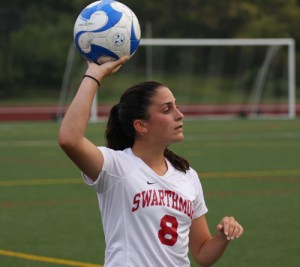 back to 1998. The defeat was the Lions' first at home since October 14, 2006 when they fell to Wheaton (IL) College in overtime. Since that game, TCNJ had gone 21 games at home without a loss (20-0-1).
Wednesday's tilt was tied at a goal apiece heading into the second half.  Swarthmore took its first lead in the 49th minute when sophomore defender Laura Bolger (Centerport, N.Y. / Harborfields) headed in a corner kick from classmate Hannah Purkey (Palo Alto, Calif. / Palo Alto).  It is Bolger's (above) second goal of the season.
The entire Garnet team was contributing to the effort, maintaining control in the midfield while stretching the Lions' defense to the edges of the field.
With just under 10 minutes remaining, Swarthmore struck for a pair of quick goals to put a stranglehold on the match.  Sophomore Elizabeth Mills (San Diego, Calif.  / The Bishop's School) out-raced the charging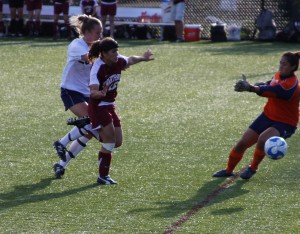 Lions' keeper (pictured left) for her team-leading fifth score at 80:01 and Megan Colombo (Arcadia, Calif. / Arcadia) followed with her second score of the afternoon just 32 seconds later.
The Lions, recently climbing from the No. 3 spot in the national poll to the penthouse, refused to roll over as senior Laura Delaney headed in a corner kick off of the foot of Nikki Migliori in the 84th minute.
TCNJ made it a one-goal affair with forty seconds remaining when Jillian Casey notched her fourth goal of the season.  The Garnet held off any final surge to seal up the road victory.
Garnet senior Lauren Walker (Fallston, Md. / Hotchkiss School) finished the afternoon with six saves for her 31st win of her career.  Senior captain Alexa Bensimhon (Allentown, Pa. / Moravian Academy) aided Bolger, classmate Cait Mullarkey (Wilmington, Del. / Ursuline Academy) and junior Eileen Earl (Redmond, Wash. / Inglemoor) in a solid team defensive effort along the backline.
TCNJ keeper Jessica Clarke made one save for the home team.
Swarthmore opens the 2008 Centennial slate this Saturday, hitting the road for the second of four matches away from campus.  The Garnet will face undefeated Dickinson (4-0-2) at 12:00 p.m. on Sept. 20, the opening weekend for all Conference action.
Click here for the BOX SCORE.