CHESTER, Pa. -- Senior captain Jeff Kushner headed home the game winner early in the second half as the 11th-ranked Swarthmore men's soccer team defeated cross-town rival Widener, 1-0, Wednesday night.
The Garnet (5-0-1) pushed their current unbeaten streak to 10 consecutive matches while Widener fell to 2-4-1.
In the first half, the Garnet stretched the field, playing to both sides of the field looking to control the pace.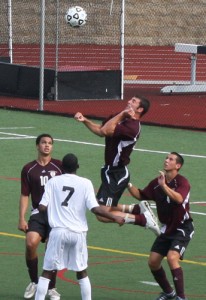 The match remained scoreless into the intermission, as Swarthmore out-shot Widener 6-2.
Nine minutes into the second half, senior forward Evan Nesterak (Parker, Colo. / Ponderosa) was tackled on the left side of the field about ten yards from the end line. Sophomore Tobias Resch (Pfungstadt, Germany / Ludwig-Georgs-Gymnasium) sent in the free kick to Kushner (Norristown, Pa. / Methacton), pictured left, who rocketed a header past the Widener goalie for his first goal of the season.
Garnet goalie David D'Annunzio (Piedmont, Calif. / Piedmont), pictured below, posted a shutout in his first collegiate start.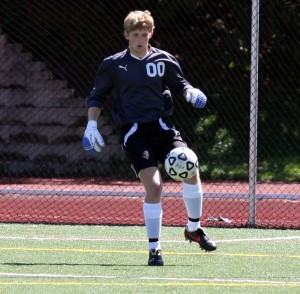 On Saturday, September 20, the Garnet travel down to Baltimore, Md. to take on Centennial Conference-rival Johns Hopkins. The game is scheduled to begin at 3:30 p.m.
Click here for the BOX SCORE