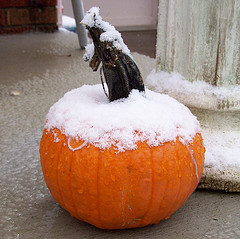 It's getting to be that time of year.  I'm not talking about frost on the ground or midterms.    It's time to "freeze" the data!
Institutional Researchers report data about our students to many constituencies, and use it for our research.  We must have data that is accurate,  and is consistent across reports and research projects, and over time.  When students are enrolling or dropping out at different points during the term, how do we keep track of it all?  We don't!  Along with our Registrars, we select a single point in time early in the semester that best reflects our student body, and we essentially download a copy of relevant data about the population that is actively enrolled on that date.  We call it a "snapshot" of the data, a "census," or a "freeze."    This is what our institution looks like at that point, and we will use this data forever to reflect our students in this term.  If someone drops out after the freeze date, our data will still reflect that student.  If a student enrolled, but left before the freeze date, they will not be counted for general reporting or research purposes.
The date selected is typically far enough along after the start of the semester so that students have sorted themselves out.  Many institutions use a particular number of days from the start of classes.  The IPEDS* default language suggests October 15.  Swarthmore has always used October 1 for our fall freeze of student data.  (We have another date for freezing employee data.)   That's why, if you ask us for the number of students enrolled in September, we'll ask you come back in October.
Leading up to the freeze, the Registrar's office is busy tracking down students to make sure their status is accurate, and IR is checking with other offices (especially IT) to make sure programs are ready to run and new coding hasn't been introduced which might affect the data extraction process.   (We hate it when that happens – always give your IR shop a heads up about new codes!)
One of the interesting things about Swarthmore that is different from other institutions in which I've worked is that the default status for students who haven't graduated assumes that they return each term.  If they don't return, their status must be switched to "Inactive" before the freeze date so that we don't accidentally count them.  In my other experiences, the default coding each term indicated that students were inactive, and their status must be switched to "Active" if they did return.  It certainly makes sense to do it this way here, as most students continue until they graduate.  It was just one of the many little things that charmed me when I first started working here.
*IPEDS stands for the Integrated Postsecondary Education Data System, the reporting system used by the National Center for Education Statistics (NCES) of the U.S. Department of Education.  All institutions in the country that participate in any kind of Title IV funding programs (federal student financial aid) must participate in this reporting.