Whether it is addressing the Latinx experience through music and performance, crafting a contemporary stage performance for taiko drumming, or teaching children how to live in the world through the practice of gamelan music, Music & Dance faculty members Belle Alvarez, Professor Joe Small, and Professor Thomas Whitman are making strides in their respective involvements.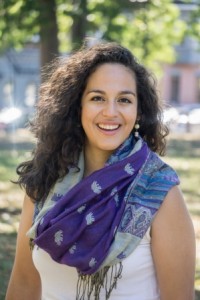 Belle Alvarez is a visiting Associate of Performance at Swarthmore College, where she also instructs Modern II. As a teaching artist, Alvarez aims to offer a joyful and healing experience that catalyzes reflection, unity, and collective transformation. In 2016, Alvarez was honored with a scholarship from the Bartol Foundation. Through the Bartol Foundation, Alvarez educates K-12 children in the award-winning Pierre Dulaine's Dancing Classrooms and Friends Central School. "Students learn and create collaboratively, engaging the imagination, while learning foundational dance vocabulary to refine motor skills, discover movement potential, and to attain sound knowledge of the body," Alvarez said.
Currently, Alvarez has been collaborating in performance and activism with a Philly-based artist: Ximena Violante '14. Violante graduated from Swarthmore College with a major in music and is now a part of a futuristic fusion band called Interminable. Interminable explores the modern diasporic experience, performing covers and originals, both in English and Spanish. "I first met Ximena at a fundraiser for an immigrant rights coalition," Alvarez said. "We had common interest in music with roots in son jarocho and are both from Central America—she is from Mexico and I am from Honduras."Ultimately, it was the chemistry and the shared desire for social change through art that drew Alvarez to Violante. "I wanted to collaborate because of the synergy and dynamism I felt with our respective approaches to music and dance," Alvarez said. "We build community and tell the stories of our communities through our art." Most recently, Alvarez performed for Interminable's music video, Buscando Un Futuro.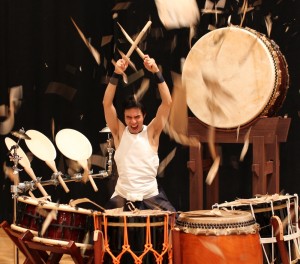 Professor Joe Small is involved with two professional taiko drum ensembles during his time outside of Swarthmore College: TAIKOZ (Australia-based) and Eitetsu Fu-Un no Kai (Japan-based).
Small met TAIKOZ members in Japan at various points in 2007 and 2008, while doing an apprenticeship for the professional group, KODO. Most recently, from October 2017 to July 2018, Small began working with TAIKOZ in a more regular capacity in an extended residency. Activities included daily training, performing at various concerts, hosting taiko classes and workshops, and doing a school tour.
As for Eitetsu Fu-Un no Kai, Small came to know the group after purchasing Eitetsu Hayashi's DVDs and CDs at a taiko drum conference. Eitetsu-san is a solo artist with a professional supporting ensemble named Fu-Un no Kai, which translates to "The Society/Gathering of Wind and Clouds." It was not until 2006 when Professor Small would encounter Eitetsu Fu-Un no Kai at their four-day workshop during his Fulbright Fellowship in Japan. "Having already seen Eitetsu-san and the ensemble live, it was an absolutely incredible experience and I left both intrigued and in awe of their artistry and virtuosity upon the taiko," Small said. Small became an official member of Eitetsu Fu-Un no Kai in September 2012, training, performing, and touring with them across Japan and overseas.
"In both cases, I hope to continue working, learning, and being involved in order to continue to forge my own path with taiko, and to share it with the Swarthmore College community," Small said. "Particularly I want to follow Eitetsu-san's approach (which TAIKOZ has made use of for their own artistic projects) to consider taiko drumming in terms of a creative contemporary art form for the stage, that receives wide influence from cultures around the world as well as from Japanese traditional folk and classical arts."
Currently, Small is still putting together plans, especially for this coming summer. "I will be teaching at the bi-annual North American Taiko Conference in August, and it's possible Eitetsu Hayashi and Fu-Un no Kai may have a concert in the midwest a few days later, still to be confirmed," Small said. "I might be performing, or I might be assisting/translating, so it depends on the lineup and program."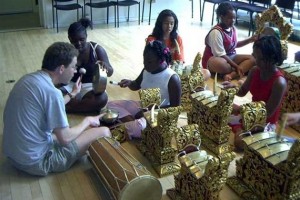 Professor Tom Whitman teaches Balinese Gamelan performance to local elementary school children in a program he created in 2004. Whitman initiated the program at Chester Community Charter School. Later on, he moved the program to Stetser Elementary School, staying there for about ten years. After that, for another couple of years, Whitman again coordinated the program at Chester Charter School for the Arts. As of fall of 2018, Whitman moved the program to North Philadelphia, at the William Kelly School, where he can spend more time with the children.
In the program, students learn to play gamelan instruments as a group. Gamelan refers to a traditional Indonesian ensemble of percussion instruments—mostly bronze-keyed xylophones, and some gongs and drums. "Gamelan music does not really have soloists," Whitman said. "It is a group/community that comes together and everybody contributes an element to the overall texture."
"So learning gamelan is also about teaching kids how to live in the world," Whitman continued. "It is about cooperating and being polite and being able to be a productive member of a group that is really rewarding without stepping on anyone else's toes."
Additionally, students learn about Indonesian culture, though Whitman said, "I think a much more important piece of cultural exchange is that the kids get to meet college students. A big part of what I want to do is get little kids thinking about the possibility that college is a place where they might see themselves. Both in Chester and North Philly a lot of kids grow up in homes where it is just not something that they ever encounter."
Without the Lang Center for Civic and Social Responsibility, Whitman would not have been able to start his program, so he is extremely grateful for their help and support. Furthermore, Whitman is always looking for more Swarthmore student volunteers to assist the program, so interested students should inquire through email (twhitma1@swarthmore.edu). As for next year, Whitman is brainstorming possible new iterations of his current program.
David Chan '19