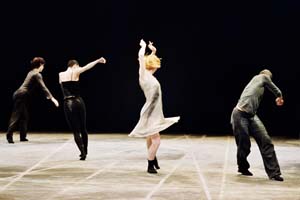 Please join us as the Swarthmore College Department of Music and Dance and the William J. Cooper Foundation presents Shen Wei Dance Arts on Friday, October 24 at 8 pm in Pearson-Hall Theater, Lang Performing Arts Center.
Hailed by The New York Times as "startlingly imaginative," Shen Wei Dance Arts invests in interdisciplinary, cross-cultural performance for forwardlooking audiences. Each work by Artistic Director Shen Wei develops an original dance vocabulary incorporating visual and storytelling elements from the theater, Chinese opera, Eastern philosophy, traditional and contemporary visual art, and sculpture. The result, which is at turns figurative and abstract, combines performance with strong scenic elements to create a "fascinating fantasy in movement" (Herald Sun). At Swarthmore, Shen Wei Dance Arts will perform two acclaimed works from their repertory: "Rite of Spring" and "RE- (Part One)."
This event is free and open to the public without advance reservations. For more info contact lclark1@swarthmore.edu or call 610-328-8260.
Shen Wei and dancers will also conduct a masterclass on Thursday, October 23, from 4:30 pm-6 pm in Troy Dance Lab, Lang Performing Arts Center. This event is open to the public with space priority given to students and Swarthmore faculty and staff. Please arrive early to reserve your space.