The Department of Music and Dance sends a warm invitation to all! This Fall concert will feature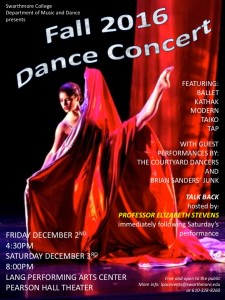 dances and music from a variety of styles and from various cultural traditions including Ballet, Taiko, Modern, Tap and more!
Come celebrate our students and faculty with this joyous end of the semester showcase. Free and open to the public. All ages are welcome.
LPAC Pearson-Hall Theater
Friday 12/2 4:30PM
Saturday 12/3 8PM
There is a "Talk Back" Q & A panel immediately following the Saturday show. Please join Professor K. Elizabeth Stevens from the Department of Theater for a moderated discussion about dance.