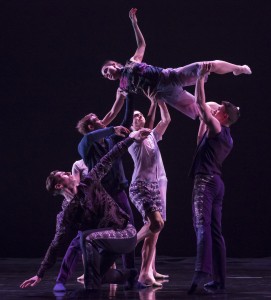 On Friday, February 8th, two legendary Chicago-based groups – Hubbard Street Dance Chicago, a nationally renowned dance troupe, and Third Coast Percussion, a Grammy Award-winning percussion ensemble – take the stage together in Swarthmore's Lang Performing Arts Center.
Hubbard Street Dance Chicago has for decades been a pioneering force in the field of contemporary dance. Since its founding in 1977, the group has consistently received rave reviews from critics for its innovative style and mastery. Originally formed with an emphasis on jazz dance under the oversight of founder Lou Conte, a choreographer and Broadway dancer, Hubbard Street took a broader approach to dance after former Nederlands Dans Theater artistic director Jim Vincent took the lead. The dance company expanded its range, drawing influence from overseas, partnering with the Chicago Symphony Orchestra, and cultivating more personality in their pieces through Inside/Out, a workshop which encourages dancers to choreograph their own pieces.
Their performance on Friday will feature a piece titled "There Was Nothing," choreographed by Jon Boogz and Lil Buck, co-founders of choreography company "Movement Art Is," in collaboration with dancer and choreographer Emma Porter. In an interview, Boogz describes his creative vision:
"It takes you on an emotional journey, and we start from the beginning: the creation of Earth. Then it goes from the creation of Earth, to Earth giving birth to man, to the final chapter, Mother Earth's tormented relationship with humanity."
"In the beginning of the piece, you get this appreciation of Earth, in all its wonders, in all its elements, and all the things as human beings we should appreciate about our planet. Then it goes into the chapter of relationship, and connection, and how man used to have a beautiful relationship with the planet, to then now in the final chapter, you get the disconnection: the industrialization, the buildings, the pollution, all the things negative that we've been doing to our planet that doesn't serve us as human beings."
The music of "There Was Nothing" was written by Dev Hynes, also known as Blood Orange, and will be performed live by Third Coast Percussion. Lil Buck described working with Third Coast Percussion as "some of the most amazing live performances I've ever seen in my life. The way they use instruments, the variety that they have from one instrument and how they can use that is incredible."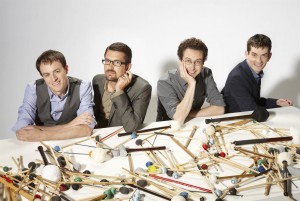 The four members of Third Coast Percussion met in 2004 as percussionists studying at Northwestern University and as members of the Civic Orchestra of Chicago, a pre-professional orchestra organized by the Chicago Symphony Orchestra Association. In the 15 years since then, they've risen to prominence as one of the leading percussion groups in the country, commissioning and debuting works from modern composers, performing live, and releasing five full-length albums and three EPs. Their album Third Coast Percussion | Steve Reich won the Grammy Award for Best Chamber Music/Small Ensemble Performance in 2017, and received an enthusiastic commendation from Steve Reich himself, who called the project ""Sensational! Sometimes people ask if my music allows interpretation. I can't think of a better answer than to play them [this album]."
Aside from both working out of Chicago, HSDC and Third Coast Percussion also bear other striking resemblances. Both groups have covered an extensive repertoire, ranging from the classical to the contemporary. Both have toured extensively across the country and across the world. And above all, both are committed to reaching out to their communities, and put an emphasis on education and accessibility for their art. Hubbard Street holds dance classes and workshops for all levels and ages, and offers a scholarship program for aspiring professional dancers. Third Coast Percussion has been the resident ensemble at the University of Notre Dame since 2013, and maintains a variety of outreach programs, including educational performances, lectures, and premiering the work of emerging composers. On Wednesday, February 6th, Third Coast Percussion will give a lecture in Lang Concert Hall on "The Science of Sound," and on Thursday, HSDC will host a ballet master class and a dance workshop.
Assistant professor of dance Olivia Sabee says "it is really important to the educational mission of the College for students and community members to have access to experiences like these in conjunction with [Hubbard Street and Third Coast]'s performances, so I am excited for students to attend these workshops as well as the performance events."
Third Coast Percussion's time at Swarthmore will conclude with a performance of Terry Riley's groundbreaking In C, a piece which arguably sparked the American minimalist music movement. Students, faculty and staff of the college, as well as area residents, will all come together to play in Lang Concert Hall alongside the members of the group.
Andrew Hauze '04, one of the coordinators of the project, describes how "Third Coast Percussion has an amazing list of educational and community programs that they offer, and we jumped at the chance to have a community play-in of Terry Riley's seminal minimalist work In C. The construction of the work offers new opportunities for musicians from so many different musical backgrounds to perform together and to develop new ways of listening."
In C, composed in 1964, consists of 53 phrases of music of varying length, without a specified instrumentation and only a loosely designated order. Beginning with a single rhythmic eighth note pattern on the note C, instruments gradually accumulate, forming a swell of polyphonic sound that can last anywhere from 20 minutes to over an hour. As such, no two performances of In C are the same.
Hauze continues, "We are thrilled to have Third Coast Percussion on campus thanks to the funding of the Cooper Foundation. As a Department of Music and Dance, we are so excited that we are able to bring their collaborative work with Hubbard Street Dance to campus as a model of creative work between two leading companies in dance and music. I'm particularly looking forward to having students, faculty, staff, family members, and community members join together led by such an amazing quartet of musicians!"
Andy Zhang '22