The ITS team has been hard at work over the past few months checking and updating our KnowledgeBase articles. Perhaps more importantly, we've been looking at how folks ask questions, what sort of requests come into our staff most frequently and how the answers to those questions are presented to you. We've taken that analysis and rebuilt the entry points into our help documentation (KB) to make it easier for you to use, simpler to find the answers you want, and with the most frequently asked questions answered right up front. And we've kept the search functionality that some of you have come to rely on! We've done all of this while making the interface simpler, more attractive, easier to use and more accessible.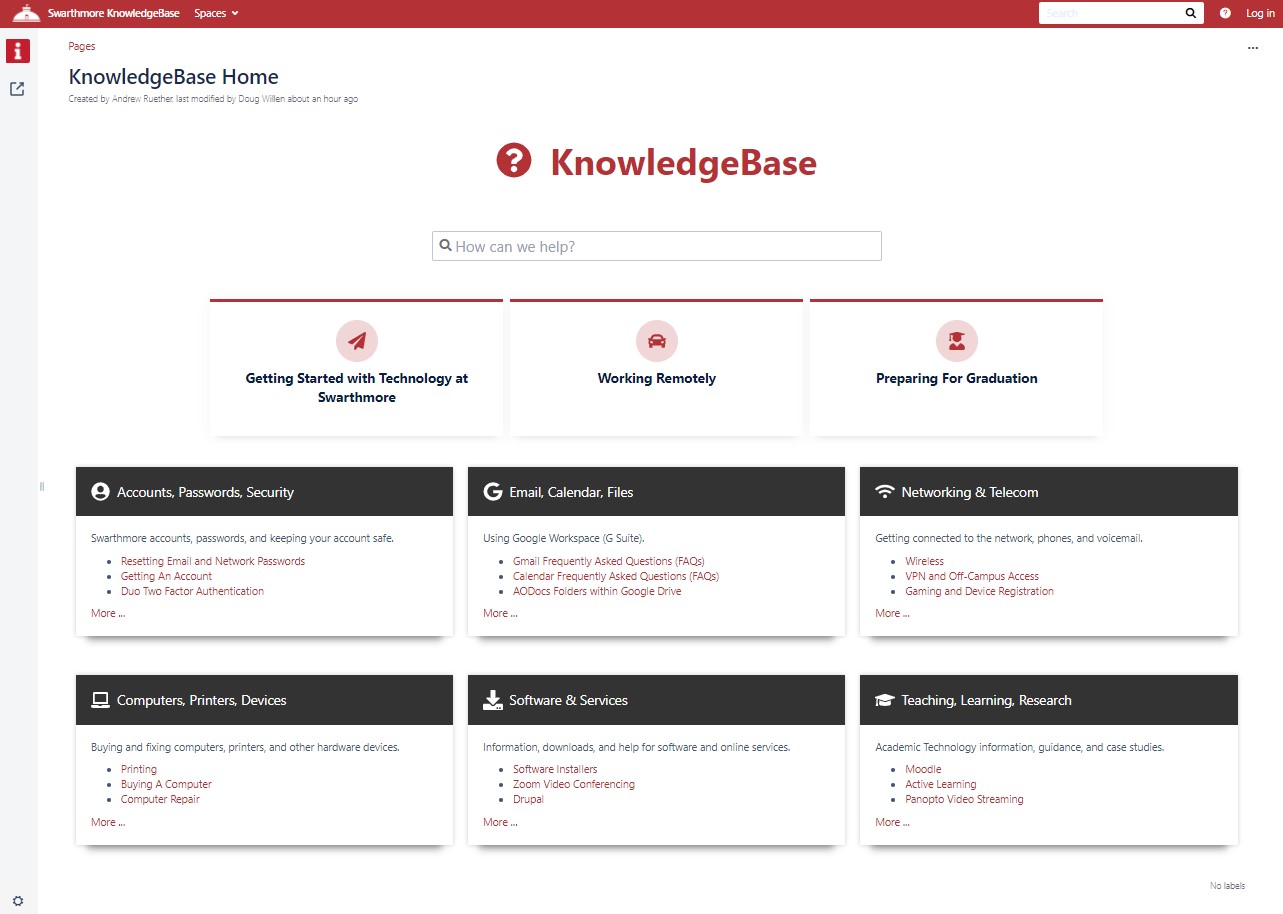 Search
We've always had a strong search functionality to our KB pages, since many folks find the answers they're looking for through searching. For some areas, such as Moodle help, we have also preserved our big list of key words to help people find the answers they're looking for, particularly if they don't know what terms to search for. These features are definitely preserved in the new pages.
Data Driven
One of the nice features of our new call tracking system, FreshService, is that it makes it easier to analyze our incoming calls. The most frequent types of questions and calls to the Help Desk include the following:
Swarthmore account questions, trouble and permissions
Zoom video conferencing questions
Moodle issues and questions
Registering a device on the network
High performance computing
So we've made sure to organize our pages to make these sorts of questions the easiest to find answers to! And we have tried to do that throughout, looking at the most commonly requested help topics for each area.
As an example, we have a set of commonly asked Moodle questions we get asked at the start of every semester:
Links with the answers to these questions are highlighted at the beginning of the Moodle section, right after the search field.
Page Organization
The new block structure also organizes our content by area. We've taken a close look at the ever increasing number of articles we have (over 410) and we've categorized them both between major areas, and within the more specific domains, such as Moodle, mentioned above, for which we divided the various sort of articles we have into six major categories, which we highlight just after the "common start of semester questions."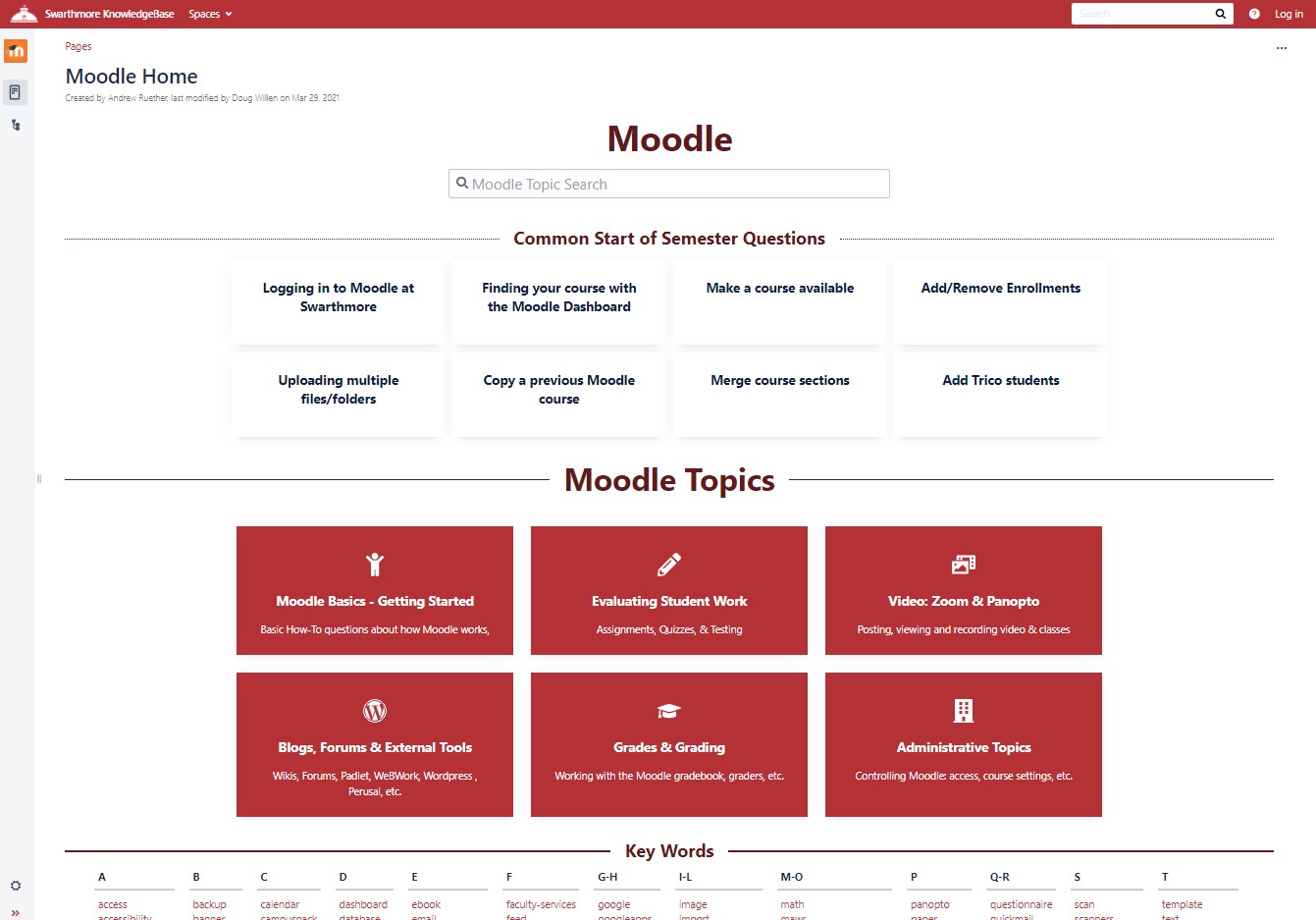 This sort of organizational effort also allows us to cross-list certain articles in multiple places. For example, if you're wondering how to integrate Zoom & Moodle, then you'll find the relevant content linked from several areas of the organization, since people think about these questions from different starting points on a regular basis.
Critical Links
Whether you are just getting started with technology at Swarthmore, figuring out how to more effectively work remotely, or nearing your graduation, we've highlighted some critical links for questions that are most current at Swarthmore right at the top of our main KB page, just under the search bar. These lead to role-based sub-pages that help KB visitors find what is most relevant to their needs, whether they are faculty, students, or staff. For example, right now, we're highlighting a link to a page on Preparing for Graduation, primarily intended for graduating seniors.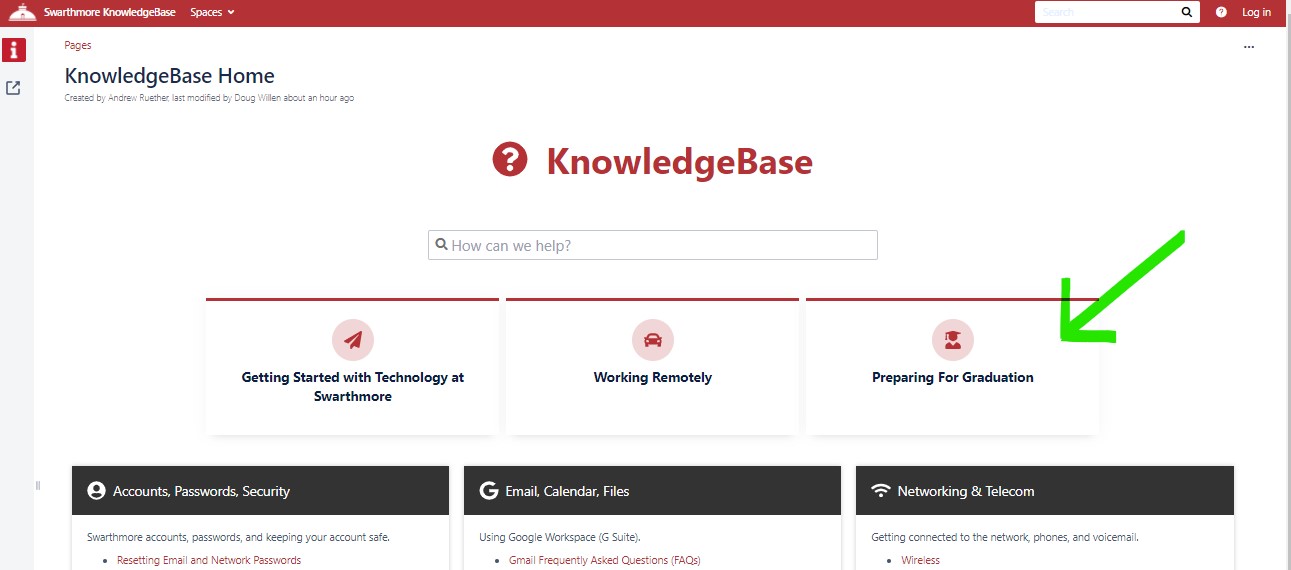 Software vs. Services?
We've also recognized that for most folks who use technology, the differentiation between what is software that you might load onto your computer, and a service available through a web interface has really become much less distinct. To that end, we've begun to combine what we might call Services and traditional Software entries into a single Software and Services page, in which you can find both. You no longer need to remember whether it's something you access through a browser or download and install on your machine. And we'll help you figure it out! It's also easy to find tools specifically for those who have need of assistive technologies or services, as well as which software is available to students.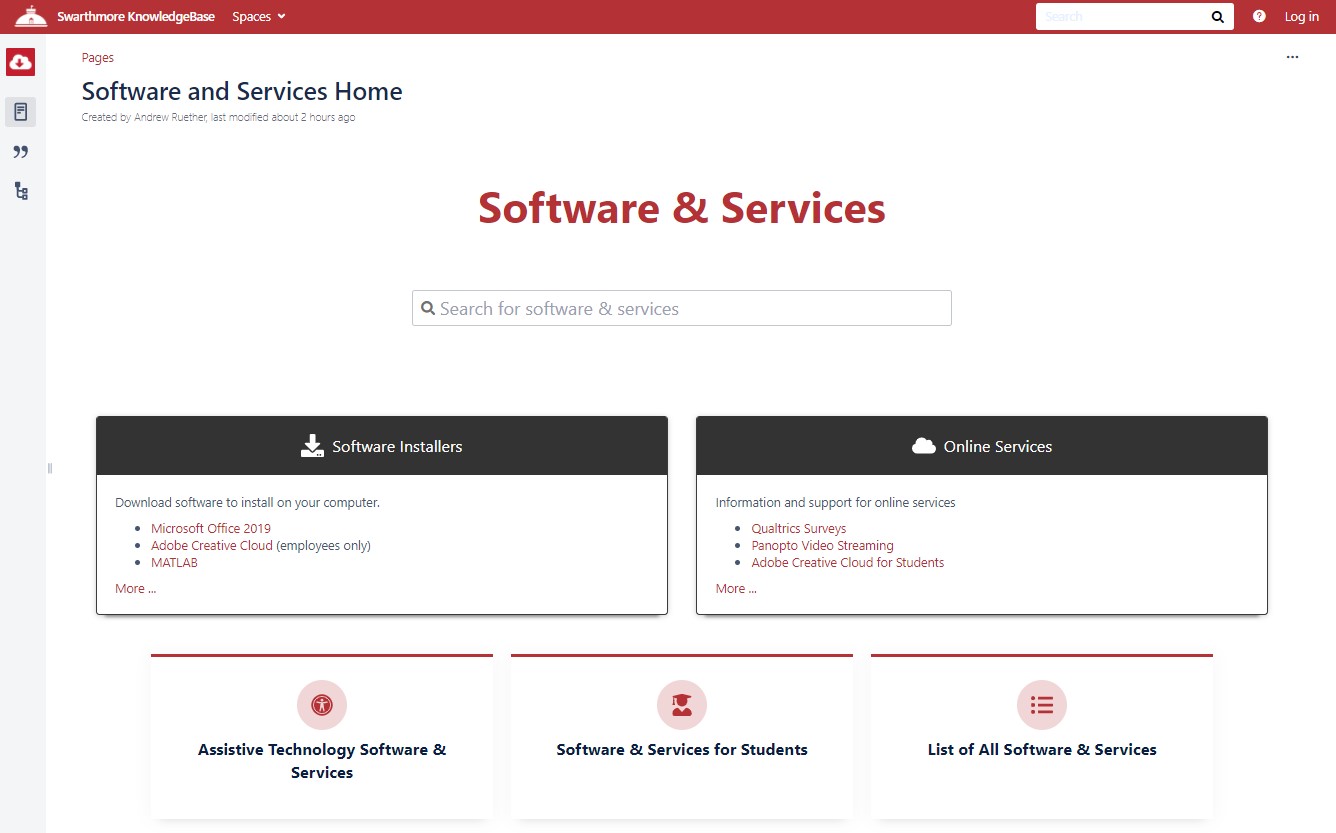 Wrapping up
This effort to reorganize and review the content of our KnowledgeBase is ongoing, and will likely always be. Since we're doing this to make things easier and better for you, we welcome your feedback! If you have suggestions for articles that are needed, content that needs to be updated, or something you find confusing, please don't hesitate to let us know. Send your questions and comments to support@swarthmore.edu, or via our Support Portal. (And I should mention that you will find links into KB from our Support Portal as well!)