A comic look at hypocrisy and a culture of politic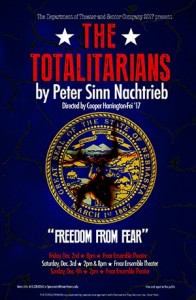 al infighting, and how we might be on the brink of revolution in Nebraska. Peter Sinn Nachtrieb's play follows Penny, a former roller derby star and compulsively watchable candidate for state office, who enlists the help of silver tongued operative Francine to manage her political ambitions. Penny's nefarious plans for the Cornhusker State are revealed via Francine's doctor husband, Jeffrey, who it turns out, is lying to his dying patients.
The Totalitarians is a raucous dark comedy about the state of modern political discourse, modern relationships, and how easy it is to believe truths without facts.
LPAC Frear Ensemble Theater
Dec 2 @ 8PM
Dec 3 @ 2PM and 8PM
Dec 4 @ 2PM
For more updated info, find us on Facebook: https://www.facebook.com/events/180420805752981/
THE TOTALITARIANS is presented by special arrangement with Dramatists Play Service, Inc., New York.