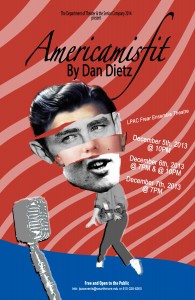 The Senior Company 2014 presents AMERICAMISFIT by Dan Dietz in the LPAC Frear Ensemble Theatre.
Thursday, December 5th, 2013 10pm
Friday, December 6th, 2013 7pm
Friday, December 6th, 2013 10pm
Saturday, December 7th, 2013 7pm
It's the B-side of the American Revolution, the song playing on the other side of the record, while you thought you were listening to what's on top.
America's first serial killers, the Harpe Brothers, are fighting a private war in the woods of Tennessee against the doomed democracy of the tyrant George Washington. As Big and Little Harpe, with their murderous and beautiful companions, the Roberts twins, cut a bloody swath across Satan's hometown of Knoxville, a preacher's daughter is ready for a little bit more… excitement in her life.
But the record of history is scratched and jumping around and it's all playing at once, and it's only held together by the sweet crooning of your host, your MC, a man known only as The Rockabilly Boy, who bears a not-coincidental resemblance to a certain King of rock and roll…
Fast-paced, bloody, scored by a live rockabilly band, Americamisfit is the side of the country you only see out of the corner of your eye. Blink, and it's gone.
The Senior Company 2014 includes Madeline Charne, Tyler Elliot, Katie Goldman, Allison Hrabar, Mark Levine-Weinberg, Theo Noomah, Anna Russell, Swift Shuker-Haines, and Morgan Williams. With Set Design by Marta Roncada, Costume Design by Tara Webb and Sound Design by Scott Burgess. Music Direction by Ben Diamond and Choreography by Ashley Banks.