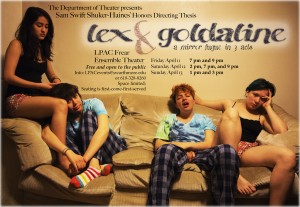 The Department of Theater at Swarthmore College presents an Honors Directing thesis, LEX & GOLDALINE: A MIRROR FUGUE IN THREE ACTS, conceived and directed by Swift Shuker.
A devised work, LEX & GOLDALINE, is at once a peaceful meditation on home and the creation of families, as well as a disorienting deconstruction of linear space and time. The theater is turned into a house, and each audience member follows one of two corridors into one of two rooms. They watch people live in this house, small and complex moments of love. Sometimes time goes forwards, sometimes backwards. Sometimes, time stops and expands and sings a song. Everyone sees the same show, just not in the same order. Everyone is in the same house, but the house is larger on the inside than on the outside. Throughout this dilation of spacetime, two sisters, Lex and Goldaline, discover sex.
LEX & GOLDALINE is a nonlinear, quiet, and ambitious exploration of intimacy, in its infinite complexity, and the limitless storytelling of the touch of another's hand.
WHEN: April 11th at 7PM and 9PM
April 12th at 2PM, 7PM and 9PM
April 13th at 1PM and 3PM
Seating will be limited.  First come, first served.
LPAC Frear Ensemble Theater