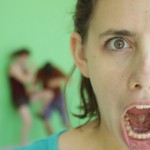 mostly practical
people spark and tumble. an
awkward puzzle solved.
Dances from Philly and New York, appropriate for all ages – A Vegan Kids Dance for Adults with Nudity: join Green Chair Dance Group, Gabrielle Revlock and devynn emory for an evening of dance!
Friday, September 9  – 10PM
Saturday, September 10  – 2PM
Sunday, September 11 – 7PM
Mascher Space
155 Cecil B. Moore
Philadelphia, PA 19122

Running Time: approximately 75 minutes
Sliding scale tickets $15-18 ($12 for anyone who can plead their case)
Box Office: For tickets, contact the Festival Box Office at (215) 413-1318 or visit www.livearts-fringe.org
Investigate our latest, We are practical people – practical, complicated, vulnerable – we solve body puzzles like we've never heard the word awkward.
Brash and adventurous, we fold in on ourselves; share secrets; flip upside down; and build spontaneous, lush architectures that eddy and dissolve.
Gabrielle Revlock will join the tumble with A Fork and Stick Thing – a dance inspired by birds striving to be human with music entirely composed of words.
devynn emory will also spiral into the mix with My Child November – a collaboration with vocalist/performer Margot Bassett and dancer Meghan Milam.