In addition to TWELFTH NIGHT, Pig Iron will be joining us for some other events.  Check it out!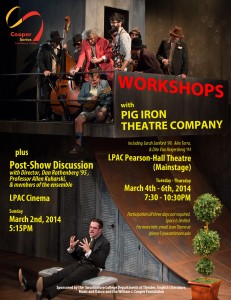 Join Director, Dan Rothenberg '95, Professor Allen Kuharski, and members of the TWELFTH NIGHT cast for a post-show discussion on Sunday, March 2nd at 5:15pM in the LPAC CINEMA.
Join Alumni Sarah Sanford '99, Dito van Reigersberg '94, and Asst. Professor Alex Torra for Workshops on Pig Iron's performance technique: Tuesday through Thursday, March 4th – 6th, 7:30-10:30PM.  Attendance at all three workshops not required, but space is limited. Contact Jean Tierno (jtierno1) or Allen Kuharski (akuhars1) for more information.