Meeting for Theater interested students! Majoring, minoring, wondering how to fit it into your Swarthmore plan…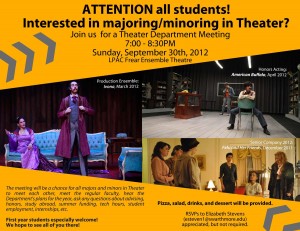 Please join us on Sunday, September 30th at 7PM in the LPAC Frear Theatre for a dinner meeting (pizza, etc).
The meeting will be a chance for all majors and minors in Theater to meet each other, meet the regular faculty, hear the Department's plans for the year, ask any questions about advising, honors, study abroad, summer funding, tech hours, student employment, internships, etc.
First year students especially welcome!
We hope to see all of you there!