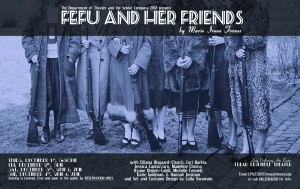 The Department of Theater and Senior Company 2012 presents Fefu and Her Friends by Marie Irene Fornes. The play will debut Thursday, December 1st at 8:30 pm and will be performed Friday, December 2nd at 8pm, Saturday, December 3rd at 2pm and 7pm, and Sunday, December 4th at 2pm and 7pm. This production will take place in an off-campus house for a small audience. It is free and open to the public; however, reservations must be made ahead of time.
Written by renowned playwright Maria Irene Fornes, this Obie-award winning play takes place in Fefu's home in the 1930s. As we move through scenes in different parts of the house and eavesdrop on the reminiscing and philosophizing of some old college friends, we become intimately involved in Fefu's mysterious world. Fornes' masterpiece draws funny yet chilling portraits of women who, though they inhabit a world almost a century old, remain eerily recognizable today. Fornes herself directed the original production in 1977 in New York with the New York Theatre Strategy at the Relativity Media Lab.
Featuring Ryane Disken-Cahill '12, Michelle Fennell '12, Lori Barkin '12, Katie Goldman '14, Maddie Charne '14, Elliana Bisgaard-Church '13, Hannah Kosman '14 and Jessica Cannizzaro '12 with sets and costumes by Professor Laila Swanson.  The faculty advisor for this production is Professor K. Elizabeth Stevens.
For more information or to reserve your tickets please call Tara Webb at 610.328.8260 or email lpacevents@swarthmore.edu. Swarthmore College encourages persons with disabilities to participate in its programs and activities. If you or anyone in your party anticipate needing any type of special accommodation or have questions about the physical access provided, please let us know or contact Susan Smythe, ADA Program Manager at 610-690-2063 in advance of your participation or visit.