Making Moves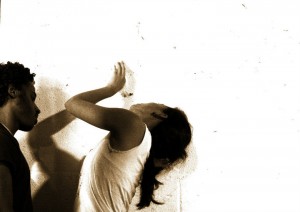 This fall Swarthmore College's Dance Program continues an exciting partnership with Philadelphia dance/theater company, idiosynCrazy productions.  Performers from idiosynCrazy productions will work collaboratively with Swarthmore students in the exploration and discussion of methodology, performance, practice, and creation of dance.  This year, the focus will be on the process of dance creation and rigorous performance tools.  The project will culminate in a Spring semester showing/sharing in Troy Dance Studio.
Beginning in November 2012, this project will span both the Fall and Spring semesters. The process will create an opportunity for involved Swarthmore dancers to: develop meaningful relationships with professionals in the city, experiment with dance and performance collaboratively in a concentrated environment, and deepen understanding of what it means to be a professional dance artist.
Credit is available for those who are involved in this unique repertory opportunity.  A dance technique course should be taken concurrently.
Participants should expect rigorous creation and practice of movement material and compositional structures, utilization of vocal techniques in relation to movement practices, use of both set and improvised material within performance structures, and engagement of theatrical sensibilities.  Several directed sessions/workshops will be included with professional choreographers from Philadelphia and NYC, including Kyle Abraham of Abraham.In.Motion and Jane Comfort of Jane Comfort and Company.
All dancers are invited to join the Dance Program and idiosynCrazy productions for a conversation about the project on Monday, October 8th, at 9pm in Troy Dance Studio.  You may also consult dance faculty member Jumatatu Poe at jpoe1@swarthmore.edu for more information.