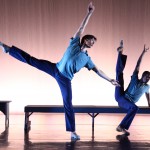 The Swarthmore Project and the Dance Program will present Meredith Rainey's "Waiting Room" as part of the Window on the Work series on Sunday, November 20th at 7PM in the Lang Performing Arts Center Troy Dance LAB (LPAC 2).  Please join us!
"Waiting Room" is set to the three selections from Franz Schubert's Schwanengesang and explores the ideas of memory and mortality through the physicality of dance. Mortality is the physical reality all people face with their spirituality, intelligence, but most of all their bodies.
Meredith Rainey is the Carbon Dance Theatre Founder & Artistic Director.  In 1987, he joined the newly formed Pennsylvania-Milwaukee Ballet, remaining with the Pennsylvania Ballet when the collaboration ended as a soloist until his retirement in 2006. He is the recipient of numerous grants and fellowships and has been commissioned to create works for Pennsylvania Ballet, Delaware Ballet, Hubbard Street 2, National Ballet De Cali, Ballet X, Danse 4 Nia and institutions such as Drexel University and Bryn Mawr Colleges. His work has been performed in North and South America and throughout Spain.