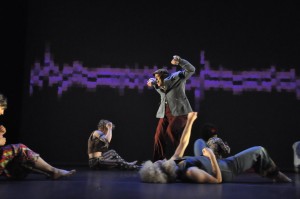 Swarthmore College (Departments of Music and Dance, Black Studies, Peace and Conflict Studies, Theatre, and the Lang Center for Civic and Social Responsibility) and the William J. Cooper Foundation present a three-week performance residency RADICAL DEMOCRACY AND HUMANISM: INTERSECTIONS BETWEEN PERFORMANCE AND ACTION. Conceived by Professor Sharon Friedler and led by Swarthmore graduate Kate Speer '08, the residency centers around engagements with David Dorfman Dance (DDD), a leading American modern dance company known for politically relevant works centered on community responsibility. From February 9 to February 27, 2015, workshops, classes and lectures will address a spectrum of positions and assumptions regarding intersecting issues of race, class, gender, sexuality, religion, politics and the environment. The central performance, David Dorfman's PROPHETS OF FUNK, for this residency will take place on Friday, February 20, 2015 at 8PM in the Lang Performing Arts Center.
Participating facilitators for the residency include the following scholars and artists: Kate Speer '08, who has written and delivered papers on Dorfman's dances, creative processes, and their connection to radical democracy, Teya Sepinuck, the founder and director of the Theater of Witness model of performance, David Kyuman Kim, a Connecticut College scholar of race, religion, and public life and George Lakey, visiting professor, non-violence advocate and civil rights activist. In the lectures and workshops, selections of David Dorfman's repertory works will be taught as aids in broadening individual performing range and exposure to these processes will provide a common basis for the study and discussion of different aspects of performance. Discussions will delve into multiple opinions and perspectives in order to encourage participants to begin dialoguing about the questions at stake, effectively employing democratic practices within the concert stage environment. The residency will seek to explore how Dorfman creates dance that de-stigmatizes the notion of accessibility and interaction in post-modern performance and how dance can add a positive challenge to engage audiences in action.
A schedule for these events is available on our home page: http://www.swarthmore.edu/dance-program. These events are free and open to the public without reservations, but space is limited for some of the smaller lectures and workshops. Please contact lpacevents@swarthmore.edu or 610-328-8260 for more information.