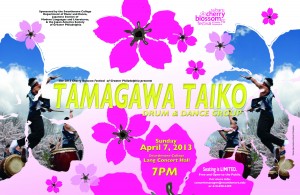 Truly one of the highlights of the Subaru Cherry Blossom Festival – the Tamagawa Taiko Drum and Dance group return to Philadelphia for a week of awe-inspiring performances.  Ready yourself for thundering drums, intricate dances, beautiful costumes and a whole lot of fun.
Taiko drumming has been a feature of the College's dance offeringsfor nearly a decade, thanks largely to the efforts of Associate Professor of Dance  Kim Arrow . This event showcases the significant relationship between the College and Tamagawa University in Japan.  The renowned Tamagawa Taiko Drum and Dance Group return to Philadelphia for a week of performances. Heart-pounding drum rhythms intermingle with elegant dances in breath-taking fashion to create unforgettable memories. Experience the relentless energy and stunning visuals as Tamagawa takes you on a journey through ancient and modern Japan.
Please note: seating is limited and first-come-first-serve.
Free Admission Swarthmore College, Lang Concert Hall
500 College Ave.
Swarthmore, PA 19081