The Swarthmore College Department of Music and Dance welcomes three new faculty members: Professor James J. Blasina, Professor Stephanie Liapis, and Professor Joe Small.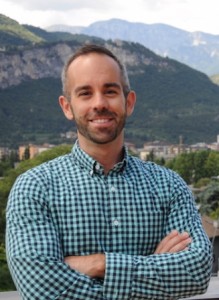 Professor Blasina is originally from Vancouver, British Columbia, and he has been interested in music since he was a child. His studies with his mentors, Professor Jennifer Bain and Jacqueline War at Dalhousie University, led him to a MA-PhD program at Harvard University, where he wrote his PhD dissertation on the way that music for St. Katherine of Alexandria modeled and mirrored changing conceptions of gender during the 12th and 13th centuries. "In many respects, I see this period as a point of origin for many of the gender systems that have held sway until the twentieth century," Professor Blasina said. "I see music as an important primary source for illuminating these changes in the ways people were thinking about gender, and on the flip side, looking at music through this particular lens helps us understand [music] better."
Professor Blasina came to know a Swarthmore alum during his time in graduate school. "I was always so impressed by her well-rounded and critical ways of thinking about problems, and by her confidence and willingness to voice her opinions," Professor Blasina said. "I was so excited when a position was posted in the Music and Dance Department, and I am grateful to be able to contribute to the work of this community of scholars and students."
Last semester, Professor Blasina taught Music 11, a music theory class that focuses on counterpoint, harmony, and musical form. This semester, he is teaching Music 28 (Sound, Sinners, and Saints in Medieval England), a course that considers what sorts of meanings human beings ascribe to sounds and music. He is also teaching Music 1a (1000 Years of Musical Firsts), which focuses on twelve significant musical premiere performances as important artistic and historical moments.
Professor Blasina hopes that his students will have two takeaways from his classes. "First of all, in a one-semester course, even on a very focused topic, it's impossible to cover everything that you'd like to," Professor Blasina said. Using an analogy from his PhD advisor, Thomas Forrest Kelly, Professor Blasina believes that the big ideas in music history courses are like a row of telephone poles. He and his students will build the "poles" together in the course. "They should be sturdy and will hopefully entice students to fill in the gaps between the poles with 'wires' throughout their lives," Professor Blasina said.
The second takeaway is empathy. "It's too easy to think of people in the distant past with simplifying and dehumanizing tropes," Professor Blasina said. "But maybe through the classroom experience and by understanding their artistic expressions, we can come to appreciate and feel connected to the human beings—as human beings—who came before us, and by extension, better understand ourselves and our societies."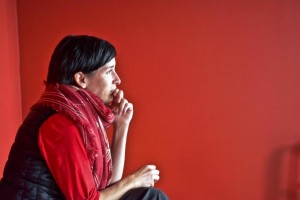 Professor Liapis has had a professional career in the performing arts that spans over twenty years. She received a B.F.A. from NYU Tisch School of the Arts and an M.F.A. from the University of Washington. Professor Liapis's choreographic research focuses on creating and presenting original, collaborative works that often weave in elements of digital sound and video to create a complete visual and sonic experience on stage .
Professor Liapis began teaching at Swarthmore College because she was drawn to the diverse dance curriculum offered at the college. "It feels relevant, exciting, and progressive to offer training and education in so many movement forms," Professor Liapis said.
Currently Professor Liapis is teaching Modern dance technique, as well as yoga and dance composition. In these courses, Professor Liapis aims to provide students with opportunities for growth and creative freedom. "In my first semester, I am hoping to build trust with the students," Professor Liapis said. "I want to provide a safe and exciting learning environment so that the studio becomes an active space for movement experimentation and exploration."
"I have been very impressed with the students' curiosity and willingness to try," Professor Liapis continued. "The students at Swarthmore are so motivated and engaged which allows us to really explore our material, it's origin, it's path, it's purpose."
Currently, Professor Liapis is amidst a very exciting time in the dance program. "There is so much energy and momentum that will allow us to be more visible on the Swarthmore campus," Professor Liapis said. "We are adding courses, developing curriculum, and offering new opportunities for students to work directly with professional choreographers!"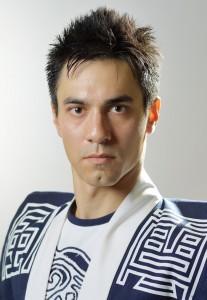 Professor Small was a student at Swarthmore College from 2001 to 2005, where he majored in dance and minored in theatre. His main interests are taiko drumming and its expansion in the choreographic context. Professor Small accredits Professor Kim Arrow, recently retired from the Dance Program, for sparking his interest in taiko drumming and helping him define an approach that values choreography as much as music. After graduating from Swarthmore, Professor Small travelled extensively (Tokyo, New York City, Los Angeles, Sydney), attended the UCLA Department of World Arts and Cultures/Dance in their MFA program, and freelanced workshops.
He decided to come back to Swarthmore to pursue the opportunity to give back to the college that got him started on his taiko career. Last semester, Professor Small taught Dance 49 (Taiko Repertory), and Dance 42 (Japanese Dance I). "In both courses, I definitely hope all students [came] away with a sense that taiko and Japanese dance are fun," Professor Small said.
In Japanese Dance I, Professor Small hopes his students received an understanding of common fundamentals and aesthetics throughout forms of Japanese dance. For example, "One key point would be the sense of grounding in one's center of gravity—the bent knee and the low waist, as opposed to certain forms of dance favoring a high center of gravity," Professor Small said.
In Taiko Repertory, Professor Small worked with sixteen students to prepare for the Fall Dance Concert. They put together a performance arrangement featuring a bit of folk dancing and flute melody from Northern Japan, as well as a contemporary taiko piece called "Propel." "For the Dance 49 (Taiko Repertory) class, we had a rehearsal where seemingly disparate parts of the taiko piece connected in a way that finally made both bodily and musical sense," Professor Small said. "Seeing everyone's faces light up in realization and excitement made me giddy." This semester, Small is once again teaching Taiko Repertory, as well as Dance 12 (Dance Lab II).
David Chan '19