Sunday, April 30 at 2 PM – 5 PM in LPAC Troy Dance Lab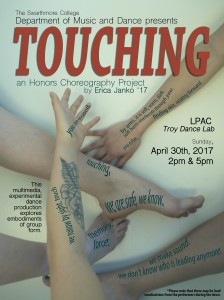 touching
you are encased by arms. it is soft, warm, dark.
soft hums reverberate through you. you echo,
finding skin, rotating forward.
touching, we are safe, we know. we follow by sight, touch
memory,
force.
we make sound.
we don't know who is leading anymore.
The Department of Music and Dance presents an Honors Choreography Project choreographed and directed by Erica Janko '17. This multimedia, experimental dance production explores embodiments of group form.
*Please note that there may be loud vocalizations from the performers during the show.
A talkback will follow each performance.
Directed and choreographed by Erica Janko '17
Set and media design by Yoshifumi Nomura '17
Lighting design by Clarissa Phillips '19
Costume design by Rebecca Rosenthal '20
Video design by Chiara Kruger '17