Sydney Dance Company is the most renowned contemporary dance company in Australia. The company has performed across the globe in venues such as the Sydney Opera House, the Joyce Theater in New York, the Shanghai Grand Theatre, and the Stanislavsky in Moscow, and is the first Western contemporary dance company to perform in the People's Republic of China. The company is known for its dancers' high level of technical ability; its integrity and precision as an ensemble; the choreography of its director, Spanish-born Rafael Bonachela; and the international array of its visiting artists. Bonachela's 2 One Another won Australian Dance Awards in 2013 for choreography and for performance by a company.
LPAC Pearson Hall Theatre
8PM
February 24, 2017
Free and Open to the public. No reservations or tickets needed. Seating is first come, first served.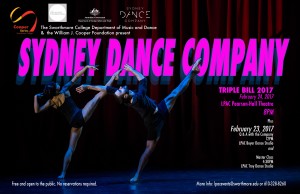 In addition to the Friday evening performance on Thursday, Feb. 23, 2017, Sydney Dance Company will offer a Q and A discussion with the company from noon—1 p.m in the Boyer Dance Studio ande, a Master Class from 4:30-6 p.m. in the Troy Lab Studio both in the Lang Performing Arts Center. These are designed for interested intermediate and advanced dance students to learn choreography from the company's repertory pieces.