The Department of Music and Dance presents a fully staged production of Henry Purcell's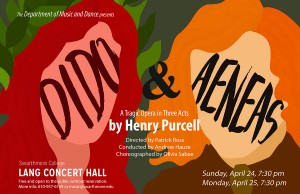 miniature operatic masterpiece, DIDO AND AENEAS, featuring an all-student cast and members of the Swarthmore College Orchestra. Stage Direction by Patrick Ross '15; Musical Direction by Andrew Hauze '04; Choreography by Assistant Professor of Dance Olivia Sabee; Costumes by Tara Webb '94; Choral Direction by Joseph Gregorio; Musical Preparation by Debra Scurto-Davis; Assistant Musical Direction by J. Andrew Kim '18; Stage Management by Aaron Slepoi '17.
Lang Concert Hall
Sun April 24 at 7:30PM
Mon April 25 at 7:30PM
Free and open to the public without reservation. More info: 610-957-6159.