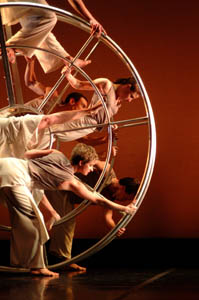 The William J. Cooper Foundation and the Department of Music and Dance invite you to attend a lecture by Carolyn Dorfman, Artistic Director of The Carolyn Dorfman Dance Company on Thursday, January 29, 2009 from 1:15 pm-2:30 pm in the Science Center lecture hall, Rm 001. This lecture will address the role of storytelling for children of Holocaust survivors. It is free and open to the public.
Carolyn Dorfman and company will also be offering an open class on Thursday, January 29 at 4:30 pm in Troy Dance Lab, Lang Performing Arts Center. All interested dancers are encouraged to attend. To reserve your place, contact Liza Clark at lclark1@swarthmore.edu, or call (610) 328-8260.
Known as a creator of provocative dances that reflect her concerns about the human condition, Dorfman is interested in creating "worlds" into which the audience can enter. Since founding her Company in 1982, she has created more than 50 works for CDDC and achieved a highly respected position among artists and arts institutions regionally, nationally and internationally. A Michigan native, she received her BFA in Dance from the University of Michigan and her MFA from New York University Tisch School for the Arts. She has been designated a Distinguished Artist and granted five Choreography Fellowships, including a 2004 Fellowship, by the New Jersey State Council on the Arts (NJSCA), in additional to other choreography honors. Dorfman was the first artist to receive the prestigious, and nationally selected, Prudential Prize for Non-Profit Leadership in 1994. In 2004 she received the Jewish Women in the Arts Award for Dance from the Jewish Community Center of Metropolitan Detroit and the Janice Charach Epstein Gallery.