Web pages are cluttered with unnecessary—to the reader—content such as ads, multiple navigation menus, videos that auto play. These all contribute to cognitive load.
With nothing to add to your computer at all, you can focus effortlessly while browsing the web. In fact, you can even focus while browsing on your mobile device in many cases.
In order to focus while browsing the web, you are looking for Reader Mode or Read Mode in your browser. Unfortunately, Swarthmore's browser used by over 50% of the campus—Chrome—does not have this mode available without an extension. However, two well-supported browsers on campus do: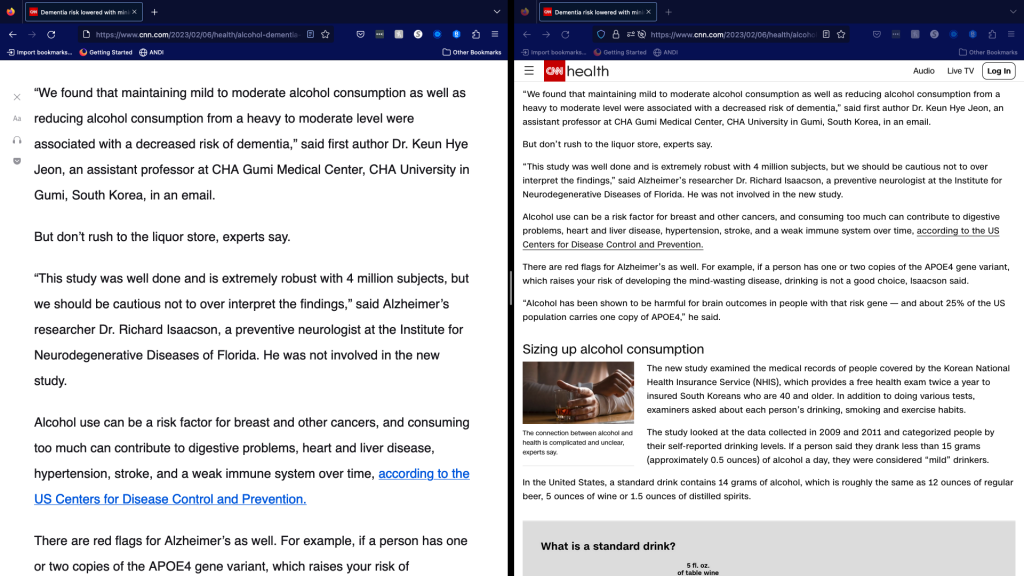 We also support Read & Write here at Swarthmore. Read & Write is on our Assistive Technology Software page and has a Simplify tool that can declutter your page as well as provide summaries of articles. It appears as a browser extension or plugin and works with the major browsers we support on campus.
In 2021, my colleague Doug Willen had a blog post somewhat related in that he discussed protecting your online browsing. Please revisit this if this area of browsing interests you.
And in 2020, Corrine Schoeb did a pictorial of the Firefox and Safari modes as well as BeeLine Reader while discussing eye strain and fatigue. While the images may be slightly outdated, they may still help you understand how to focus while browsing the web.
I hope you enjoy your decluttered web browsing and enjoy this subtle use of assistive technology (AT).