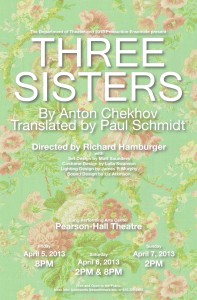 Paul Schmidt's accurate translation of Chekhov's THREE SISTERS, rescues a sense of humor often lost in many academic renditions while balancing a respect for the historical context and original social climate of the play.
Richard Hamburger's modern take on this popular classic brings a new twist to this story about the decline of the privileged class in tumultuous turn of the century Russia. The play's action brings alive the intimate details and aspirations of a cultured family of three sisters and one brother who move from urban Moscow to a small provincial town and search for meaning in modernity as they struggle with their isolated existence. The meaning of life, of course, never presents itself, and the symbolic representation of their happiness, Moscow, never materializes. Directed by Richard Hamburger with Aaron Matis, Michaela Shuchman, Casey Ferrara, Mark Levine-Weinberg, Madeline Charne, Nathan Siegel, Stefan Tuomanen-Masure, Allison Hrabar, Michelle Johnson, Jack Sailer, Joshua Peck, Isabel Knight, Anushka Mehta, and Tyler Elliott. Set by Matt Saunders, Lighting by James R. Murphy, Sound by Liz Atkinson, and Costumes by Laila Swanson.
Anton Chekhov (1860-1904) grew up in a provincial area of Ukraine Russia and went on to study and practice medicine in Moscow. He began his career as a writer with short and humorous sketches in the Moscow newspaper and in the 1880s became known for his short stories. His first play, The Seagull, was produced at the Moscow Art Theater in 1896 and he went on to much success with Uncle Vanya (1899), Three Sisters (1901) and finally, The Cherry Orchard (1904). He died of tuberculosis at age forty-four.
LPAC Mainstage (Pearson-Hall Theatre)
April 5th at 8PM
April 6th at 2PM and 8PM
April 7th at 2PM