Last spring we did a short blog series on student engagement and motivation while teaching remote. As part of the series, we interviewed Professor Beatriz Ramirez Canosa discussing how she uses Jamboard as a way to keep students motivated and engaged as well as Professor José Vergara on his use of Peer Support Groups during remote learning. This month, we'd like to continue to uplift faculty voices so others can know about the innovative teaching going on at Swarthmore. Read the interview below to learn more about Barbara Thelamour's peer interview podcast project.
Please describe an activity or project you've assigned that has helped keep your students motivated and engaged?
A significant aspect of Multicultural Psychology is the exploration of one's racial identity using existing theory and with the assistance of a classmate. In the Fall of 2019, I transformed this peer interview project that was typically submitted as individual papers into a joint podcast interview. During remote teaching, this project has been excellent for keeping students who may not be in the same state connected to each other. Pairs of students do individual reflection and joint prep work before recording their podcasts using Zoom. They edit the audio using Audacity, the editing platform. They are encouraged to add creative touches to their projects, which have included popular music, commercials, and third-party hosts.
How have you seen this activity help your students? What has been the impact?
This project has helped students solidify the concepts they've learned in class: racial identity development, racial-ethnic socialization, and intersectionality. Being able to have a fluid conversation with their peers about course material has had an impact on their retention of course information. Students have shared feedback that has highlighted their enjoyment of the activity. They've also thoughtfully critiqued the existing identity models in ways that may not have been as accessible without this structured conversation. Lastly, students gain technical skills in recording, editing, and posting 30-minute podcasts.
Podcast Studio Now Available On Campus
This type of project is highly adaptable and would work well for students whether teaching in-person or online. If you are interested in developing a podcast assignment similar to Barbara's, the Language and Media Centers has a new podcast studio in Martin Hall 218.
This space features a Rodecaster audio mixer, 4 microphones, and headphones, and a computer to record and edit your podcasts.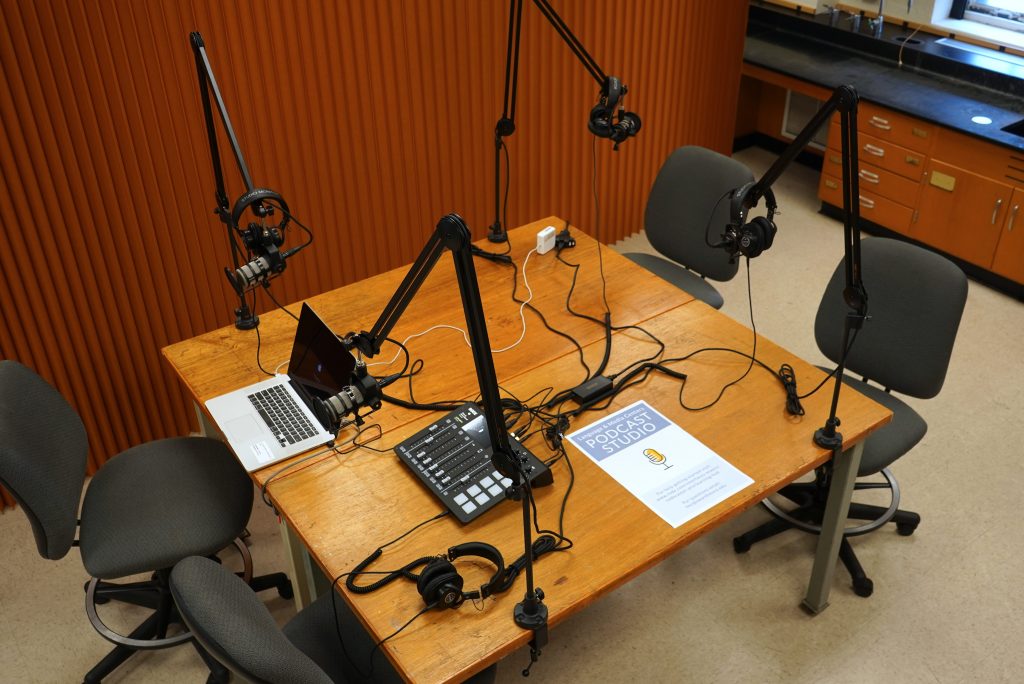 The Podcast Studio is currently available by appointment only. For questions regarding access to the Podcast Studio, resources in the space, and help, email lmc@swarthmore.edu.
Want to Learn More?
Our Academic Technology and Language and Media Centers teams are happy to help brainstorm different ideas for student projects with you. We're also happy to put you in touch with other faculty who are practicing similar learning activities. If you have questions about podcasts, visit our guide on creating a podcast assignment, or please reach out to us by emailing support@swarthmore.edu.