Some of you may have noticed a recent change within your Gmail account. There now exists integration for other Google services within your Gmail client! Just click on the Show side panel action button in the lower right portion of your screen while in Gmail to get started.
This will show your sidebar, complete with access to Google Calendar, Tasks, and Keep.
Google Calendar
In this section of the app, you can keep track of, you guessed it, your calendar. The default integration gives you a quick look at what you have going on today, and acts much like the full Google calendar app.

Google Keep
Google Keep is a note-taking service that allows you to quickly jot down your ideas. Notes are a great way to keep track of things that you need to keep track of in the immediate or near future. They can be created easily, edited, and removed without hassle. For extra functionality, such as adding color and changing typography, you can easily open each of your notes within Google Keep (as opposed to Gmail's integration of it) directly from the note itself.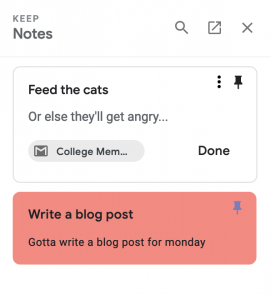 Google Tasks
This is one of my favorite integrations with Gmail. The functionality of it is so simple, yet highly effective in helping you keep track of what you need to get done. To use it, just click on the Add a Task link, enter the title of it, and it will appear in your sidebar. Once complete, just click on the radio button and it will be transferred to your completed tasks.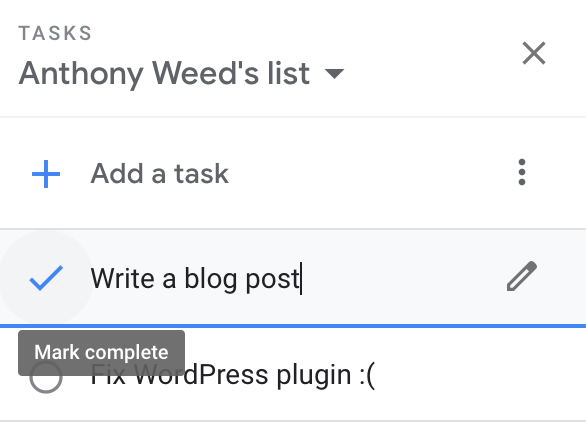 Google tasks also allows you to set a deadline, as well as sub-tasks. Just click on the pencil icon while a task is selected, and it will expand to a more robust task editor.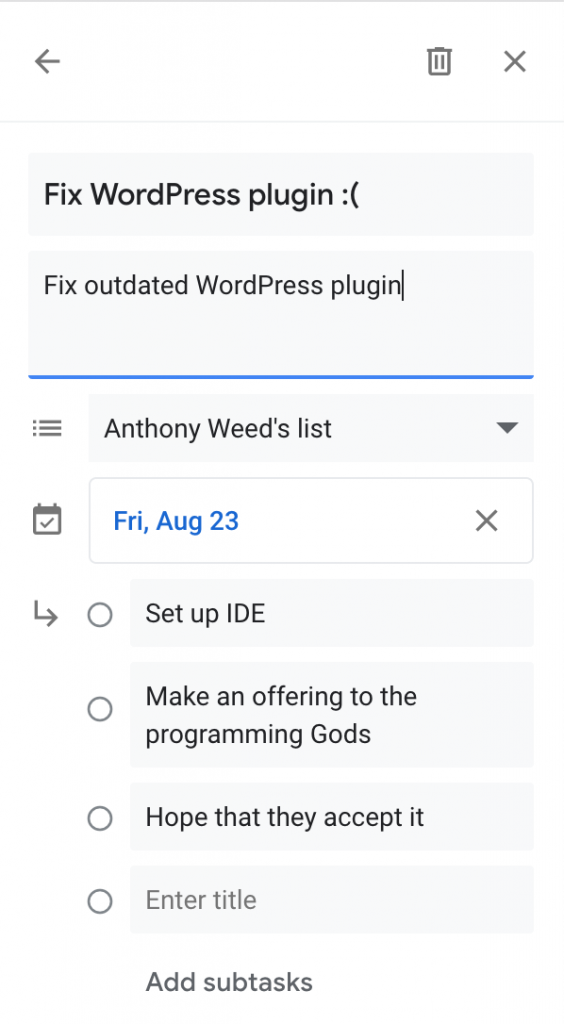 Extra integrations
Additionally, Google offers integrations outside of the typical Google suite or products. Click on the + icon while your Google Side bar is open. This will allow you to add custom integrations into Google from the Google Marketplace.
Some additional integrations may not enabled for security reasons.  Get in touch with us at help@swarthmore.edu if you are interested in a specific Gmail add-on.
Final thoughts
Having these tools directly with Gmail can greatly improve your workflow, at a relatively low learning curve. It's great that Gmail offers these apps all in a single place as well which eases the need (and sometimes frustration) to manage multiple apps.