Panopto's latest version has some exciting new accessibility features. Take a look at just a few of their new features below.
Caption Editing 
Find and Replace ASR (Automatic Speech Recognition) powered caption editing enables customers to quickly identify captions that may need to be edited using confidence highlights, and to replace all instances of an incorrectly transcribed word based on one initial manual correction 
Custom, site-level dictionaries for ASR allow customers to list common specialized terms, proper nouns, and other words that have a unique prevalence at their institution. Learn more at: How to Create a Custom Dictionary
Caption end-time support ensures that closed captions that specify an end-time will now be honored by Panopto's viewer, to improve the user experience and accessibility by clearing the prior caption when it no longer applies, as opposed to waiting until the next caption is displayed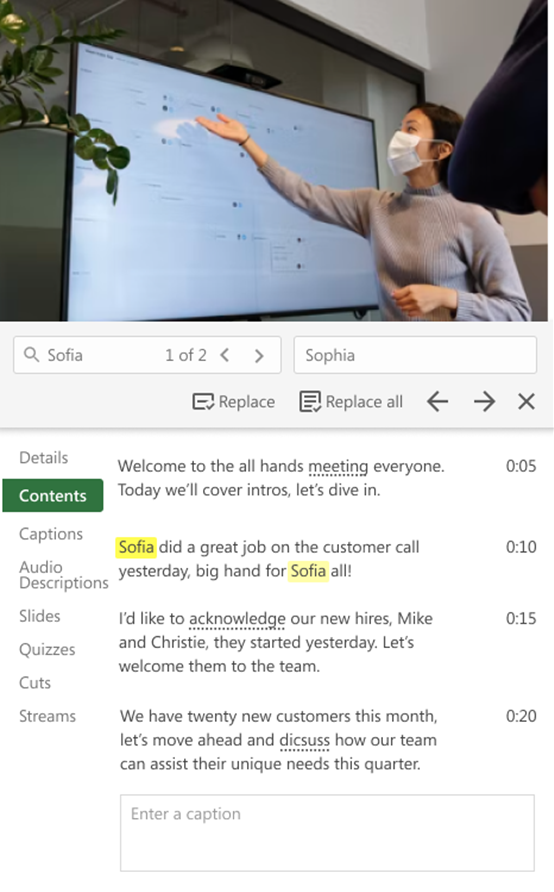 Multi-language ASR, search, and captions
AI-powered caption translation can now be requested by customers, allowing for simple, one-step language translation based on ASR or service-created captions.
The ASR caption and search language can now be set per folder or per department.  This enables administrators to set the preferred ASR caption language for the expected input so that captioning can reflect the language used in the initial recording
ASR reprocessing allows customers to easily switch languages when a specific video was recorded in a different language than the pre-set default language for its containing folder
An update to the automated speech-to-text engine has improved ASR caption quality, across all supported languages.
FAQ 
What is the expected accuracy of the feature? Machine-generated captions are not the same as human transcriptions; as such, reviewing and editing automatic machine captions for accuracy is recommended. Accuracy may vary depending upon language pairing. 
What is the expected turnaround time for translated captioning? In most cases, within a few seconds of requesting translated captions. 
What are the supported languages?  The following languages are supported: 
English (United States, United Kingdom, Australia)
Chinese (Simplified, Traditional)
Spanish (Mexico, Spain)
German
French
Dutch
Thai
Korean
Japanese
Russian
Portuguese
Polish
Danish
Finnish
Hungarian
Norwegian
Swedish
Italian
Want to Learn More?
You can read more about Panopto's latest features by following the link below.
Release Notes | June 2022 Product & Service Update
If you have questions about using any of these new features, please contact us at support@swarthmore.edu.