It has been quite a year for Swarthmore's Makerspace. This past Fall, a new manager was hired, and over the winter break we moved from Beardsley Hall to Whittier Hall rooms 109-113, giving us an opportunity to expand our workspace and storage, with higher ceilings and great natural light. Our Open House was a big success, and concerns about drawing enough traffic have been put at ease with the new location buzzing with activity. The move also opened up space in Beardsley for a new Idea Lab, a temporary prototyping space complete with a flight simulator, green screen, VR equipment, and comfy furniture. The Makerspace has been used to create custom furniture and decorative elements for the Idea Lab, which is still in progress and expected to open soon.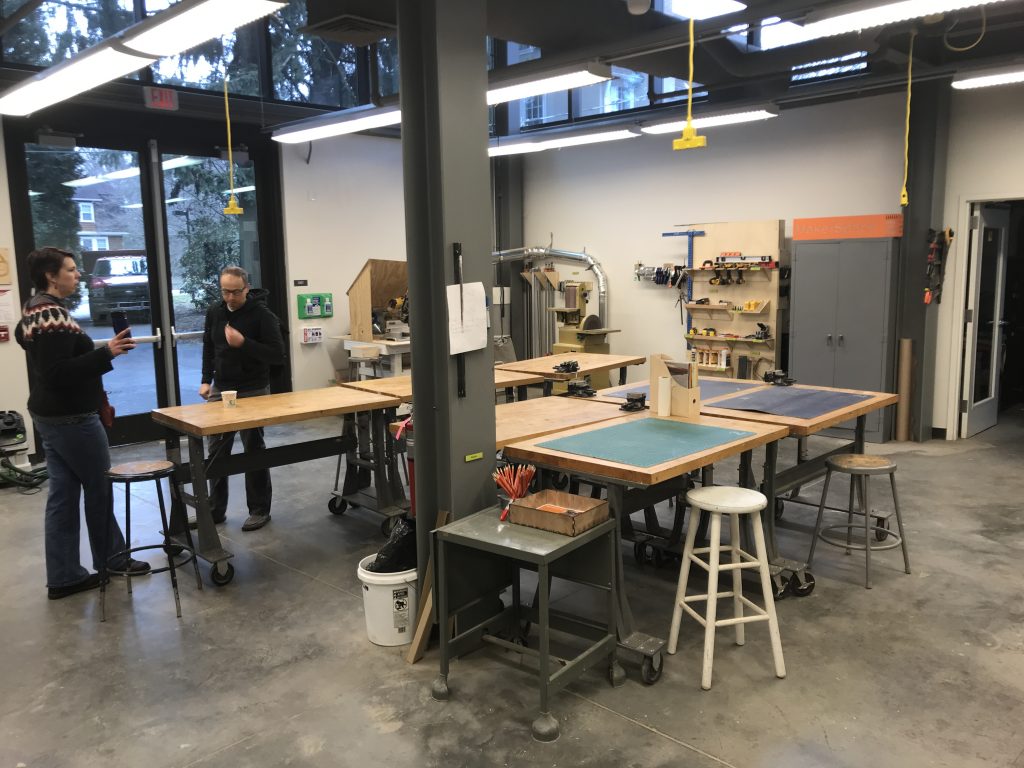 We have already had four wood shop certifications since the Spring semester started, with more to come, and last week we launched our Wednesday Night Workshop series, starting off with an Intro to 3D Printing, where participants got a chance to learn about the materials and processes that go into 3D Printing, and how to set up a print for the best chance of success.
This week, one of our senior student technicians, art major Oliver Steinglass, taught a workshop on Laser Cutting and Engraving, showing campus members how to create a file in Illustrator, and adjust settings for both raster engraving and vector cutting. Participants got the chance to create their own files and take them home as a souvenir.
Last Friday, another senior student technician of ours, religions major Scott Candey, taught a workshop on 3D Scanning with our Einscan Pro 3D Scanner. Students took turns trying different objects, calibrating and passing the scanner around, and got to learn about post-scan file cleanup.
The 3D Scanner has been busy, with Professor Matthew Leslie's Biology Lab taking turns 3D scanning bones and fossils.
In addition, the Makerspace has supported course work for classes such as Mathematics, Photography, and Fashion with its combination of 3D printers, sewing machines, and craft supplies and tools.
We will commence Spring Break with a demonstration by Reynolds Advanced Materials, a mold making and casting distributor of Smooth-On products. Participants will get a chance to watch live applications, touch samples, and walk away with a souvenir.
The Makerspace will also be presenting at the Tri-Co Blended Learning Conference this summer. Stay tuned for more updates on workshops and student-driven projects!