Are your students having trouble accessing your Moodle course? There may be a couple easy fixes to help this situation.
Making a Course Available to Students
Moodle courses default to being hidden from students. Courses that are visible to students are listed in red and courses that are hidden from students are listed in grey in your course listing.
We've made this the default setting so that before the semester begins, you have time to build your course without students seeing all of your edits. After you've made most of your edits in the course, it's important to remember to go into your course settings and make the course visible to students. To make a course visible to students follow the steps below:
Go to the Big Gear Icon at the top right of page
Click on "Edit Settings"
In the top section labeled "General", switch Course Visibility to "Show"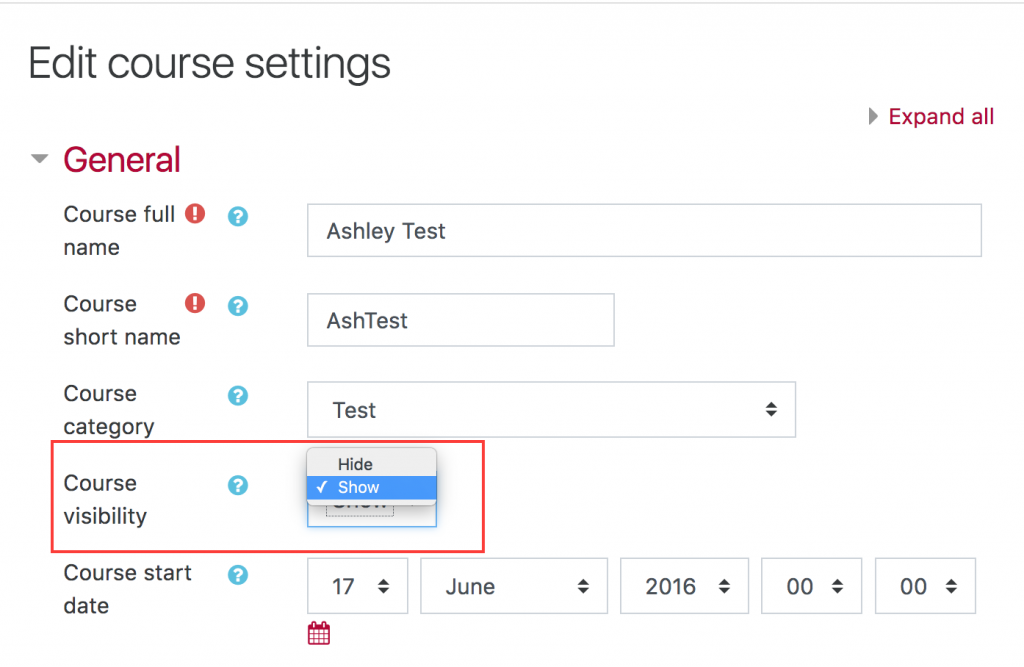 Bryn Mawr and Haverford Students Accessing Moodle
Do you have Bryn Mawr and Haverford students who are having trouble accessing your course? There is often a delay of a day or so for Trico courses to become fully in the systems enough for moodle. So after filling out the registration paperwork, it may take a day or so for things to work themselevs out. However, if it takes longer than 3 days, you should reach out to the Registrar's office to let them know.
In the meantime, you can open up your course to guests so that your Trico students can still have access to Moodle.
Opening up your course to guests
Opening up your course to guests means anyone on the Internet can access your course without needing an account. Because of this, it is recommended that you set up an optional password for guests. To enable guest access:
Click on "Participants" from the left had menu
Click on Small Gear Icon at the top right of page
Click on "Enrollment Methods"
If Guest access is not already listed, select "Add Method" then click "Guest Access"
If Guest access is listed but greyed out, click on the eyeball icon to make it available
Click on the gear icon next to "Guest Access" to modify the settings
Set a password by typing a unique password in the text box
Most people who turn on guest access set a password because the course may have fair use copyright materials or because they don't want anyone on the Internet seeing the contents of their course.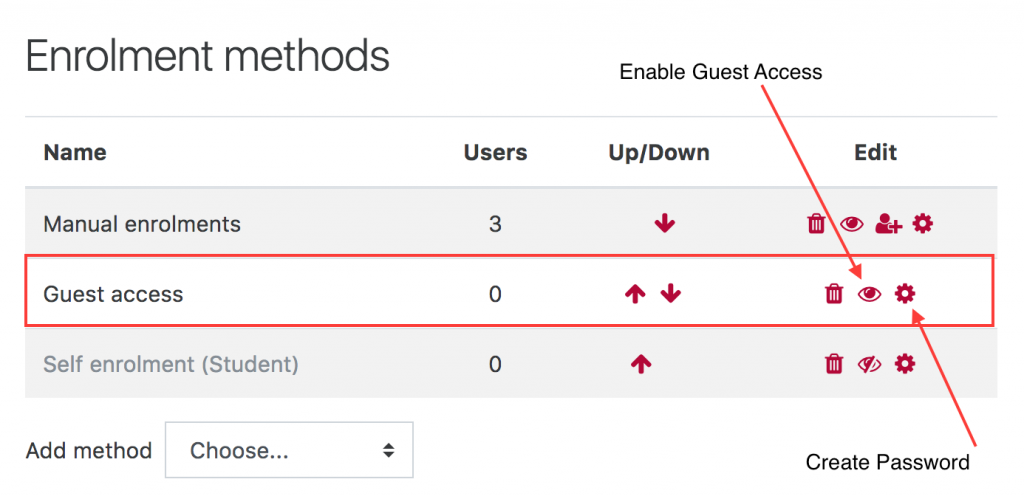 You can now copy the URL of your course main page and share it with Trico students. Again, after a few days any Trico student enrolled in your class should automatically become an official "Registered Student" in your Moodle course. If you don't see this reflected on your "Participants" page, you should reach out to the Registrar's office.
If you'd like to read more about making your course available to students take a look at our help documentation using the link below.
Make course available to students or guests
Need Assistance With This?
If you need help setting up any of these options, please feel free to email us at acadtech@swarthmore.edu