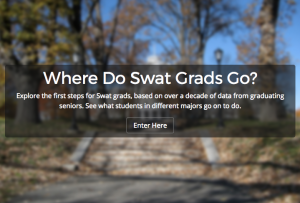 At the end of July, ITS and Library staff and student workers completed another set of Swarthmore Projects for Educational Exploration and Development (SPEED).
David Molina Cavazos '20 worked with Assistant Dean Liz Derickson and Associate Director of Client Services Erin Massey, to create firststeps.swarthmore.edu, a site that Swarthmore students and faculty advisors can use to explore majors.  Each page contains data collected from alumni to provide guidance on what students do after graduation, sample career paths, and student narratives.  The Dean's Office is using First Steps to assist with course advising this year.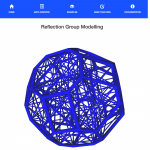 Kate Collins '18  collaborated with Math Professor Elizabeth Drellich to build a website to visualize representations of shapes from abstract algebra.  You can see the site at reflections.swarthmore.edu, create your own 3D reflection model and download the model for 3D printing.
Cassandra Stone '20 developed a web site to present audio recordings, videos, photos, and textual data from the Pacific island of Vanuatu collected by Linguists David Harrison and Jeremy Fahringer.  The site will be added to the Talking Dictionaries web site to aid exploration and understanding of Vanuatu.
Nicki Feldbaum '19 developed interactive visualizations for English Literature Professor Rachel Buurma's Early Novels Database (END) project.   Thhis sophisticated visualization lets users explore the connections between early novels and their epigraphs and will be added to the END website soon.
ITS and the Libraries would like to express their thanks to the students for all their efforts this summer, the staff members that managed the projects and supported the work, as well as the recipients of the SPEED grants to coming up with engaging ideas for us to work on.
Please get in touch with any of the Academic Technology staff if you have questions or would like to learn more about the projects.  Look for a late winter announcement for SPEED 2018 grants!