Course Listing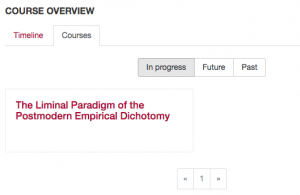 Your list of courses is now separated into In progress (current), Future, and Past based on the start and end dates of the courses.  Click on the appropriate tab to see your courses.  Fall courses start on September 4, 2017 and will move from "Future" to "In progress" on that date.
Turning Editing On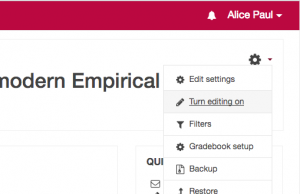 The link to turn editing on is now located at the top right of the page.  Click on the gear icon and select "Turn Editing On"
The "Edit settings" link for the course is located in the same menu.
Look to the gear icon on the top right of the page when editing settings for course resources and activities as well.
Left Course Menu
A new left menu contains course and site information.  It can be toggled between opened and collapsed using the small button in the top left of the page.  Closing the menu provides increased room for course content.  All Moodle blocks show up in the right column.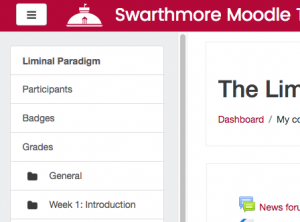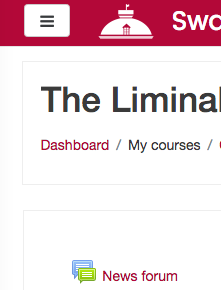 Other Questions
We've updated all our Moodle help documentation for the new version of Moodle.  If you have questions about how to set up your courses or use the new version of Moodle, please email help@swarthmore.edu or get in touch with your Academic Technologist and we will be glad to help.