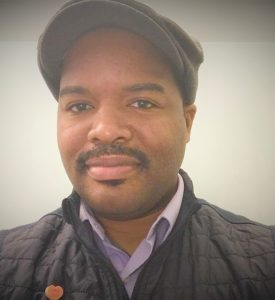 The "Who Is That?" series gives you insight into who we are here in the ITS department with a series of traditional and non-traditional interview questions.
Wrapping up: From our last post with Aixa Pomales, Director of Support Services, she lied to us about being a great swimmer.
Today we introduce to you one Mark CJ Davis, Jr. (MD).
Interviewer (I): What year did you start here at Swarthmore, Mark?
MD: 2006.
I: What is your current title, and what other positions have you held here?
MD: Current: Manager of Desktop Systems.  Previously: Software Specialist, Technical Support Specialist.
I: How did you get interested in working in technology?
MD: I knew it immediately after seeing the movie War Games in 1983.
I: What is the most recent piece of technology you acquired, and why?
MD: STEM Robotics Kit and iRobot Vacuum for father/son projects.  Fun and more fun!
I: Could you please tell us what you do here using only haiku (5 syllables/7 syllables/5 syllables)?
MD:
Supporting Campus
Projects/Meetings
Building Relationships
Prioritizing
(I'm not so good at using haiku)
I: …
I: If you didn't work in technology, what do you think you'd be doing?  It seems you should not hang your hat on a poetry career, although perhaps the Writing Center can help you out with that.
MD: I'd either be an astronomy teacher or the host of Diners, Drive-Ins and Dives.
I: Seems logical.  Maybe you would be a haiku poet in Flavortown.
I: What is the one thing you wish everyone knew about your job here?
MD: We work closely with our Registrar's Office every year to implement and support our honors program exams.  This planning and testing begins several months in advance. Our team works very hard to support students and faculty during this important, yet stressful time.
I: Lots of folks know you sing in a band — what's your singing range?
MD: Baritone, second tenor, falsetto first tenor.
I: Where's the most interesting place you've ever performed?
MD: On cruise ships.
I: Tell us two truths and a lie (answers to be revealed at the top of the next person-featured blog post):
MD:
I volunteer as a technology and career trainer for a nonprofit.
I was a lifeguard and captain of the diving team.
I'm a professional dancer.
I: I was happy not to see "I'm a professional poet" in your answers — that would have been too easy.
I: Tell us something you're proud of at work.
MD: I'm proud of the work we do as a department to support our campus community! We really have great synergy.  I'm privileged to work with so many dedicated, passionate, talented and caring individuals.
I: Tell us something you're proud of outside of work.
MD: I'm proud of my family, my friends, and the privilege to learn from life's experiences.
I: What's your favorite quote?
MD: "Our deepest fear is not that we are inadequate. Our deepest fear is that we are powerful beyond measure. It is our light, not our darkness, that frightens us."