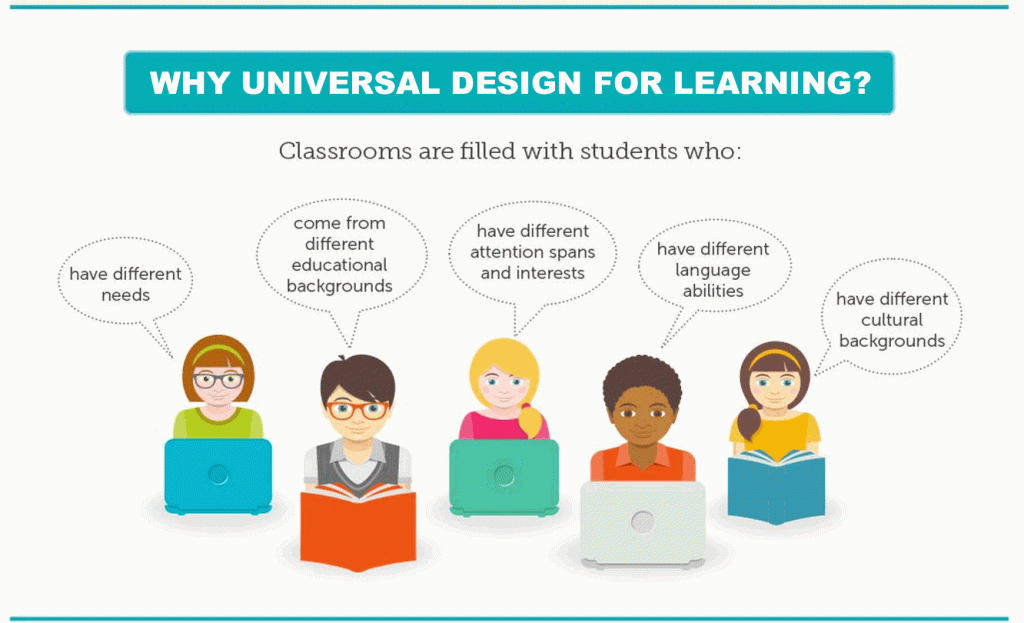 Have you ever wondered how you could structure your learning materials so that they are more inclusive and accessible for All your students?… If so, this new mini workshop series may be for you!
"How Do They Do That?" is our new coffee and learn mini-workshop series held at the Language Center in Kohlberg 326 on select Thursdays from 3:00 to 3:30 pm. Check out our schedule below.
The focus of this series is to give you quick tips on how to make little changes that have a huge impact for students with diverse learning needs. These tips may therefore help you create inclusive material for all students of varying backgrounds, learning styles, and abilities.
Why Universal Design for Learning Matters
You may be well aware there are several different types of disabilities such as…
Visual disabilities: blind or low-sight, color blind
Hearing disabilities: deaf or hard-of-hearing
Physical disabilities: MS, paraplegic/quadriplegic, epilepsy
Cognitive disabilities: dyslexia, low literacy, learning disabilities
But not everyone falls into these categories. Only addressing accessibility needs when it comes to course material may fall short and that is where Universal Design for Learning (UDL) or Inclusive Teaching may come into play. The following are some student characteristics that are considered in the inclusive classroom.
Disabilities
Language
Mental Health
Socioeconomic Factors
Religious Differences
Gender Identity
Sexual Orientation
Other Social/Cultural Factors
An article on UX Booth provides a perfect example of how universal/inclusive design differs from accessibility.
The terms "accessibility" and "universal design" are often used interchangeably. However, they do differ in terms of scope. Where accessible design focuses on the needs of people who are differently abled, universal design is focused on all people's needs. If a wheelchair lift is an example of accessible design, an elevator, which is usable by those with wheelchairs, parents with small children, people moving large furniture, or just tired adults, is an example of universal design.
This provides a great example of how we can do better to not only service students with accessibility concerns but to also serve students with a variety of needs and abilities as well.
What Can You Do to Get Started with Universal Design for Learning?
If you want to learn more about how you can incorporate the principles of Universal Design for Learning into your course materials, join us as we share mini presentations over delicious afternoon coffee and snacks! Check out our schedule below.
9/21 – Formatting a syllabus – how and why (Corrine Schoeb- Technology Accessibility Coordinator)
In this session you'll learn how to structure your syllabus (or any Word document) so that it is more easily understood by students using assistive devices.
10/12 – Introducing the Moodle Doc Scan (Corrine Schoeb- Technology Accessibility Coordinator and Andrew Ruether, Academic Technologist)
In this session we'll introduce a new tool in Moodle that will help identify inaccessible documents.
10/26 – Moodle Best Practices (Ashley Turner- Academic Technologist)
In this session we'll discuss some recommended practices for structuring your course material in Moodle that can help students navigate more easily.
11/9 – Libraries, Articles and eBooks (Jessica Brangiel – Electronic Resources Management Librarian)
In this session you'll learn about the electronic resources available through our Library system that gives students access to electronic textbooks and journals.
11/30 – Captioning Videos in Youtube (Ashley Turner- Academic Technologist)
In this session you'll learn how to use the auto-caption feature in Youtube to easily create captions for your videos.
Bookmark swarthmore.edu/ITS-Events to keep up to date with our events!