You can get amazing video and still shots that previously would have required a full sized helicopter or significant crane and boom equipment with current quadcopter drones (small Unmanned Aerial Systems (sUAS) in the parlance of the FAA). Current guidance systems take advantage of GPS positioning and smart controls to provide a very easy to use and stabile system at the professional level of these aircraft.  These are much easier to fly and get great shots with than the cheaper toy drones that have become extremely popular commercially. Example videos: Swarthmore from the air above Parrish Beach, The beach at Shoreham, NY, Youtube footage – Ithaca, NY
Please join us on February 24th, for the Academic Technology Workshop, Swarthmore's Quadcopter.  Sign up on the Campus Calendar for the workshop.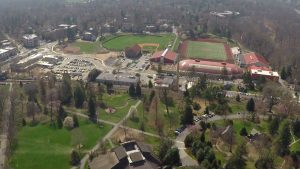 Unfortunately, Swarthmore is within the extremely controlled "Class B" airspace surrounding Philadelphia International Airport, so only folks with a certificate that the FAA implemented in August, are allowed to even request authorization to fly in the airspace above campus, and that request process can take weeks.  However, we expect to be able to facilitate that process in the near future, and to be able to provide the supervision needed to support such flights above the College grounds. (See this link for the New FAA Rules on Drones.)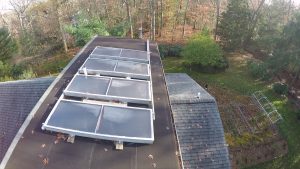 More importantly here at Swarthmore, there are ongoing discussions right now about what the College's policies should be around drone flights on and above campus. These discussions are involving folks from safety, privacy, liability, technical and user perspectives, and we expect to see a comprehensive statement soon.  In line with that, there will be a short flight request form that will provide a single clear point of contact for those who would like to request permission to fly above the campus.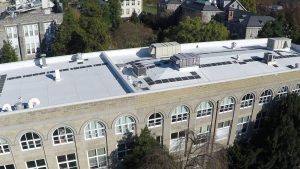 However you can still fly on private property where you have permission.  Some examples include inspecting roofs and roof mounted solar panels, monitoring ecologically interesting areas and construction projects. We hope to be able to monitor the BEP related demolition and construcdtion starting this summer!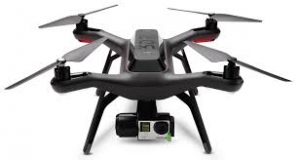 Swarthmore ITS currently has a 3D Robotics (3DR) Solo Quadcopter that can be borrowed by qualified faculty, staff and students for use in academically oriented projects. The Swarthmore ITS Quadcopter is a 3D Robotics Solo, outfitted with a GoPro Hero 4 Black video/still camera and a stabilizing gimbal designed to keep that camera steady as the quadcopter navigates.  The gimbal also allows the operator to move the camera angle between 0 deg (straight down) and 90 deg. straight forward viewing angle.  The Go Pro Hero 4 Black can film in resolutions up to 4k, and can take both wide angle, as well as narrower angle video and still shots, controlled by the iPad, iPhone or Android device to which you have linked it.  Both the quadcopter and the remote control have separate 1 GHz processors to allow for smart operation, and ease of use, and the quadcopter will exhibit amazingly smooth flight and stability, even in the face of significant wind conditions during flight. It operates with the GPS satellite system to maintain position and to return to home, should the connection between the quadcopter and controller be lost. (3DR Support site)
Want to learn more?  Contact Doug Willen in ITS (willen@swarthmore.edu).