If you come across a Windows video or audio file that your Mac can't recognize, don't despair.
Unfortunately, Macs can't automatically play back files with .wmv or .wma file extensions. The good news is that with a quick installation of some extra components, any Mac running OS X 10.3.9 or later and QuickTime 7 or later can playback Windows video through the QuickTime player.
All you need to install are the free Windows Media Components by Flip4Mac from the Microsoft web site. Click on the "Free Download" button on the top of the page. (Please note that Flip4Mac also sells a more advanced edition of the software on the Internet. You do not need to pay for the full version to play back Windows media files.)
Instructions for installation are available online. After you complete installation, you should be able view or hear Windows Media files in your browser or QuickTime Player.
From playback to conversion
You may want to do more with a file than simply play it back. For instance, you might want to covert a WMA file to the MP3 format so that you have an easier time playing it back on your iPod or in iTunes. There's a handy, free utility called "Switch" that you can download. (Again, there's also an advanced version that costs money.) Switch will allow you to batch convert multiple Windows Media Audio files.
Start by downloading the free Switch audio file converter. A file called "switchmac.zip will download to your desktop. Opening it should cause a file called "switchmac.pkg" to appear on your desktop. When you launch this it will run the Switch installer.
After installation, launch Switch from your Applications folder. It should open a window that looks like this: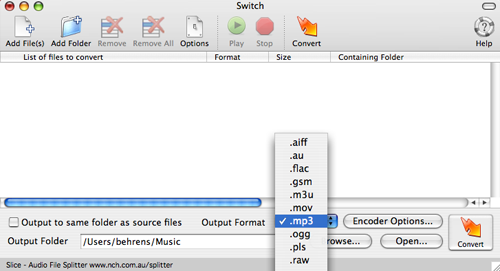 Converting the audio files will be as easy as dragging-and-dropping your audio files into the window. Then you can select your output format from the drop menu, as shown above. Click on the Convert button in the lower right corner, and your files will appear a few seconds later in the folder indicated in the Output Folder box.