The Classics Department has launched a new website, with updated information on the academic program, courses, and faculty. It also features reflections from current students and alumni and Hapax Legemon, the student classics journal.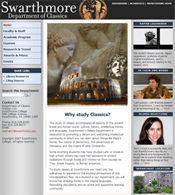 The website was created in Ingeniux, the College's web content management system. It is based on the standard template for academic departments but employs a custom style sheet to achieve a distinctive look for the department.
This site also demonstrates how we can incorporate events submitted to the new Campus Calendar into departmental websites. Check out the Events page to see how this works. We hope this strategy will help to streamline events publicity on the web for departments.
Please send any suggestions or comments about the new Classics website to Kelly Mueller, kmuelle1@swarthmore.edu.
If you would like to add your department's website to our project schedule, please contact Kelly Mueller, kmuelle1@swarthmore.edu.